Markets panicked on September 13 at the time the US CPI figures for August were released
The core CPI was above the previous month's figure, rising more than the average forecast by economists. Next Wednesday, bets are now that the Fed's next rate increase would be 100 bps. The probability that a rate hike of this magnitude would occur was as high as 50%.
Treasury bond yields rose sharply, boosting the US Dollar, which rose sharply against all peers.
Yesterday's session began with a high degree of volatility and continuous ups and downs in the US stock markets because of the uncertainty created the day before. In reality, the market needed to eliminate the fear that arose after the CPI figure and the aggressive price dynamics that led the Nasdaq index to experience the biggest drop since the pandemic crisis in 2020.
The question is if an inflation figure like the one that was known the day before yesterday is reason enough for such an excessive movement of the market, or what is the same if that CPI data alone can cause the Federal Reserve to intensify its monetary policy further.
The market seems to have decided to calm down and reflect on it, although everything is still developing on a fine line between panic and calm. US indices rallied slightly, with the Nasdaq index being the best performer.
The US Dollar also behaved in line with this context, falling slightly but in a clear upward trend. The trigger for this fall in the US Dollar came above all from its price against the Japanese Yen.
Japanese monetary authorities have warned that they dislike the latest downward move in their currency and are willing to intervene by selling dollars without prior notice to the market.
The USD/JPY pair lost around one and a half figures after these warnings and returned to the level from where it started its bull run the day before.
Technically, the weekly chart shows a bearish triple divergence that could herald either the end of the rally or a significant downward correction for the pair.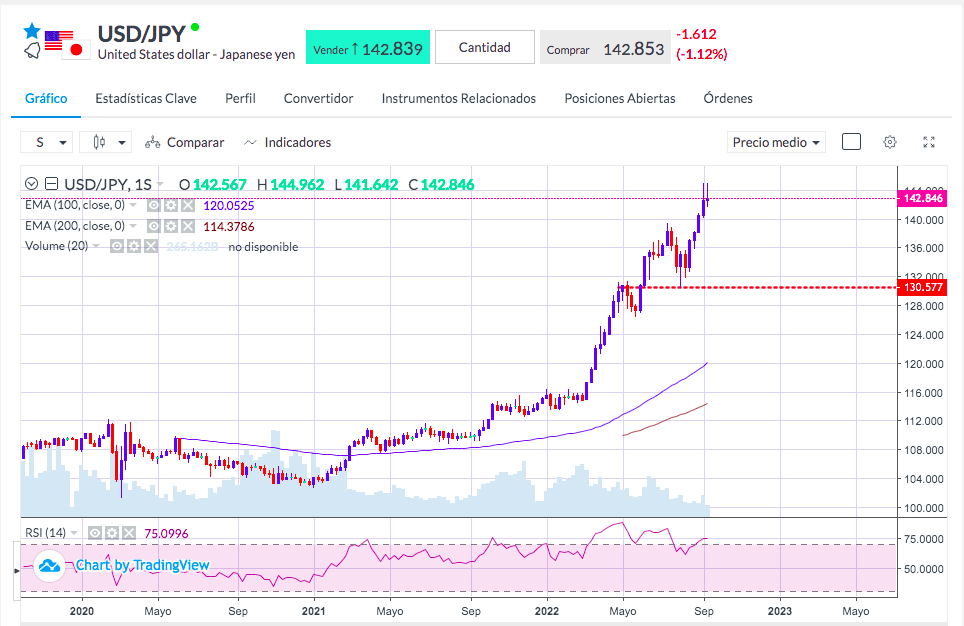 Sources: Bloomberg, Reuters
The information presented herein is prepared by Miguel A. Rodriguez and does not intend to constitute Investment Advice. The information herein is provided as a general marketing communication for information purposes only.

Users/readers should not rely solely on the information presented herewith and should do their own research/analysis by also reading the actual underlying research.

Key Way Markets Ltd does not influence nor has any input in formulating the information contained herein. The content herewith is generic and does not take into consideration individual personal circumstances, investment experience or current financial situation.

Therefore, Key Way Markets Ltd shall not accept any responsibility for any losses of traders due to the use and the content of the information presented herein. Past performance and forecasts are not reliable indicators of future results.