The week begins with little movement in the markets. Today is a holiday in some E.U countries, including the U.K., which accounts for much of the market activity during the European session.
Some critical economic figures in Europe have already been published. Despite the strict mobility restriction measures, Germany's retail sales for March rose to 7.7%, well above the 3% expected.
This could be perceived as a positive result contributing to EUR/USD rising from Friday's lows of around 1.2015.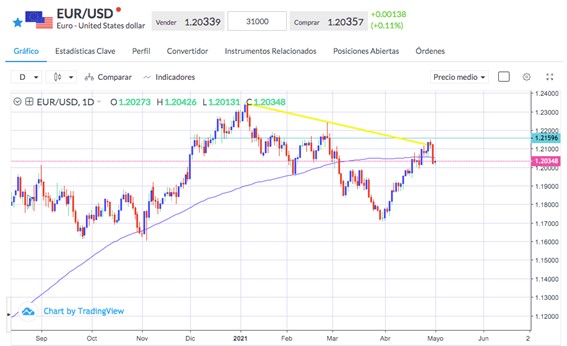 Also, comments from ECB's Vice President De Guindos regarding a withdrawal of the monetary stimuli as the administration of the vaccine progress impacted the EUR/USD pair. These statements were seen as more "hawkish" than those of the Federal Reserve since they speak of reducing the rate of purchase of assets before the data of the European economy is fully recovered, especially those of growth and employment. On Friday, the eurozone GDP data for the first quarter was published, showing a reduction of -0.6% and causing the eurozone to enter a technical recession.
Although the EUR/USD pair rebounded following these events, the most crucial movement occurred during the last two days of last week when it fell to the area marked by the downtrend line after the U.S Treasury Bonds yields rose again close to the 1.70% area.
Technically, the pair is trading below the 100-day SMA line again. Below this level, its next reference level would be around 1.1950.
Another financial asset experiencing an interesting movement was Tech100. The U.S. index fell approx. 1%.
The behavior of the index is that of a downward breakdown of a diamond pattern. This typically anticipates further falls or corrections.
At the moment, the European session is experiencing slight gains while waiting for the North American opening. Today only the economic data of ISM manufacturing in the United States is published, which is not expected to impact the markets significantly.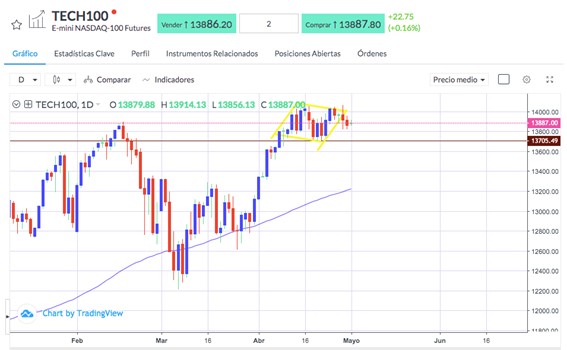 Sources: Bloomberg, reuters.com.
The information presented herein is prepared by Miguel A. Rodriguez and does not intend to constitute Investment Advice. The information herein is provided as a general marketing communication for information purposes only.

Users/readers should not rely solely on the information presented herewith and should do their own research/analysis by also reading the actual underlying research.

Key Way Markets Ltd does not influence nor has any input in formulating the information contained herein. The content herewith is generic and does not take into consideration individual personal circumstances, investment experience or current financial situation.

Therefore, Key Way Markets Ltd shall not accept any responsibility for any losses of traders due to the use and the content of the information presented herein. Past performance and forecasts are not reliable indicators of future results.