The Bank of England raised interest rates to 0.50%, pushing the pound higher. The European Central Bank president Lagarde hinted at potential monetary policy changes.
In addition, she stated that inflation took them by surprise and that it will probably remain high for longer than initially expected. Should inflation persist, they will take the appropriate measures to try and push it back towards target levels around 2%.
In short, it was a discourse different from the previous "hawkish" ones, undoubtedly due to the pressure that the changes in monetary policy in England and the United States are beginning to exert, but also due to internal pressures that advocate a more determined action to curb inflation.
The result in the market has been remarkable, with a significant rebound in European bond yields. The Bund shot up to 0.16% after just a few days ago it was in negative territory. As a consequence, the euro went even higher.
EUR/USD rallied to levels close to the 100-day SMA at 1.1430, the highest levels since June 21, and was heading towards the next price concentration level at 1.1550.
Today the US employment data is scheduled for publishing. The markets don't expect positive results, even more so after the poor figure for ADP employment. In conclusion, the recent downward movement of the dollar could be accentuated if expectations in this regard are confirmed.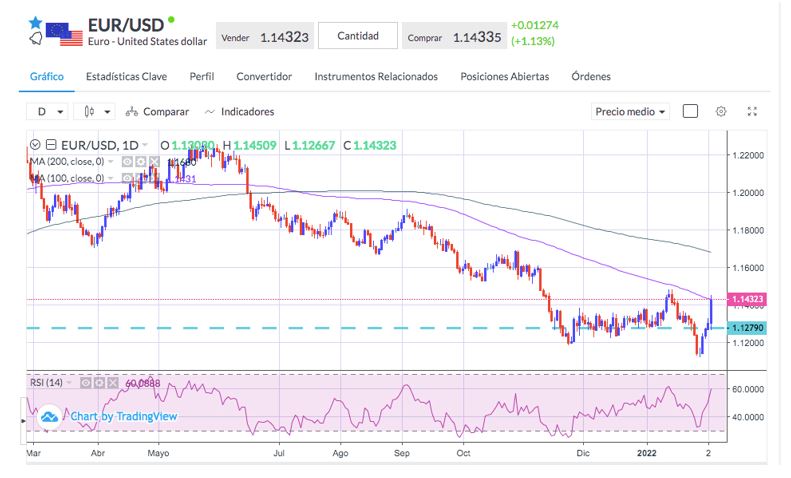 In the stock markets, the crashes were widespread, with Facebook stock as the main trigger. Facebook opened down 26%, reversing all of its gains from the past 20 months. This happened after the company reported its first quarterly decline in active users and forecasted a revenue squeeze this year due to huge project's investment in the Metaverse and the restrictions imposed by Apple on its advertising campaigns.
This brought with it important falls for the Nasdaq index – higher than 2% - potentially turning the previous price surge into a mere correction of the last downward leg. Now the next reference level is at the recent lows, around 13,830.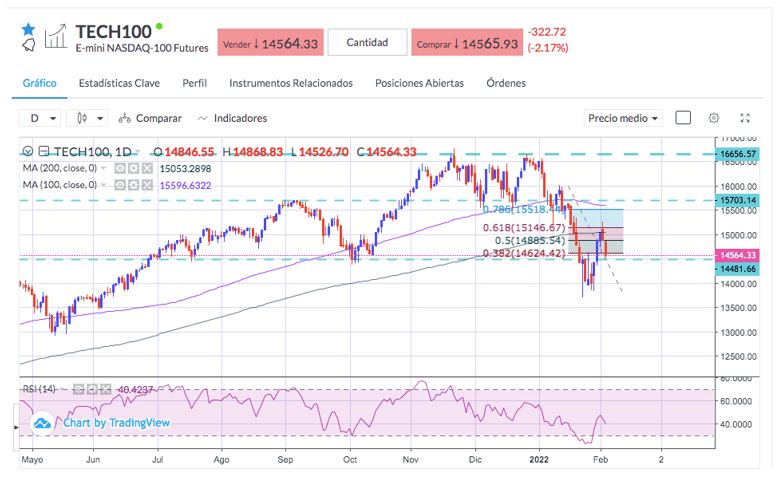 Sources: Bloomberg, Reuters.
The information presented herein is prepared by Miguel A. Rodriguez and does not intend to constitute Investment Advice. The information herein is provided as a general marketing communication for information purposes only.

Users/readers should not rely solely on the information presented herewith and should do their own research/analysis by also reading the actual underlying research.

Key Way Markets Ltd does not influence nor has any input in formulating the information contained herein. The content herewith is generic and does not take into consideration individual personal circumstances, investment experience or current financial situation.

Therefore, Key Way Markets Ltd shall not accept any responsibility for any losses of traders due to the use and the content of the information presented herein. Past performance and forecasts are not reliable indicators of future results.