The Purchasing Managers' Index data published yesterday in Europe, the United Kingdom and the United States revealed a slowing momentum for the economic recovery.
Although figures remain at high levels, with Manufacturing PMIs hitting 61.2 in the U.S, 61.5 in Europe, and 60.1 in the U.K, the growth rate is slowing down. However, this could be somewhat expected, given the enormous boost seen in recent months following fiscal stimulus policies and expansionary monetary policies.
But these economic figures had little impact on the market. The investors' attention was focused on the Delta variant and the Federal Reserve's decisions regarding the tapering process.
The previous week was dominated by uncertainty surrounding the pandemic, due to many Asian countries, as well as Australia and New Zealand implementing restrictions measures and national lockdowns. This situation triggered a shift in market sentiment towards greater risk aversion, threatening corrections in stock indices and leading to declines in the Forex market. However, delta concerns faded almost overnight, the market turned around, and the dollar weakened.
After breaking the important level of 1.1700 during the past week, the EUR/USD pair could not consolidate this movement and bounced above this area. From a technical analysis point of view, the trend is still bearish, encountering a resistance level in the 1.1750 area, above which it would reach the main level located at 1.1800.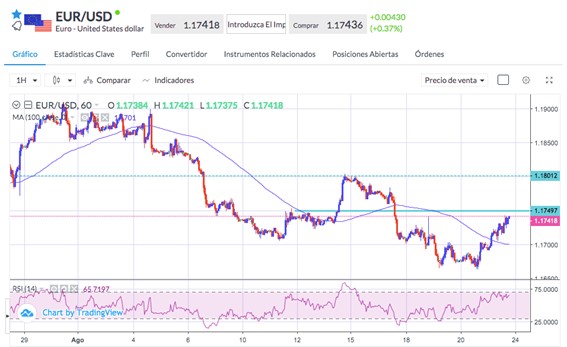 U.S. Stock Indices.
The North American stock indices performed well, recording increases of above 1%, especially the Tech100. The recovery of this index appeared to be attributed to Fed's most recent announcement about the tapering process.
After the U.S. Central bank announced the meeting would take place virtually, many analysts saw this as a sign of concern about the pandemic. They concluded it would be difficult for the Fed to announce a withdrawal of stimuli during this meeting. The technology index would be, in principle, the most affected by an increase in interest rates, and therefore reacted very positively to the news.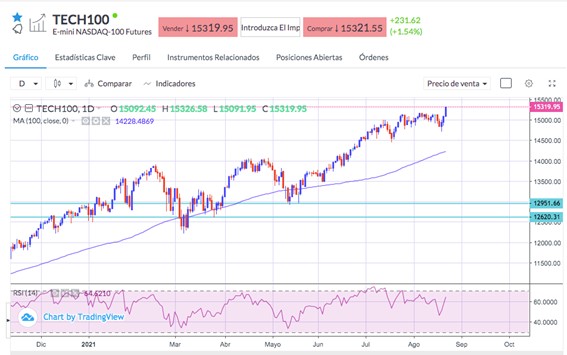 Sources: Bloomberg, reuters.com.
The information presented herein is prepared by Miguel A. Rodriguez and does not intend to constitute Investment Advice. The information herein is provided as a general marketing communication for information purposes only.

Users/readers should not rely solely on the information presented herewith and should do their own research/analysis by also reading the actual underlying research.

Key Way Markets Ltd does not influence nor has any input in formulating the information contained herein. The content herewith is generic and does not take into consideration individual personal circumstances, investment experience or current financial situation.

Therefore, Key Way Markets Ltd shall not accept any responsibility for any losses of traders due to the use and the content of the information presented herein. Past performance and forecasts are not reliable indicators of future results.