Yesterday, on the eve of the European Central Bank meeting, both European and US stocks fell as the prospect of higher interest rates weighed on investor sentiment
At the same time, Bond yields rose sharply.
All this was driven to a certain extent by the Eurozone's gross domestic product figure, which exceeded expectations, providing further support for the bets favoring a more aggressive European Central Bank monetary policy.
The market debate focuses on guessing the next steps of the central banks - if they will be more or less aggressive in raising interest rates. That's why the market has already begun to be extraordinarily sensitive to the figures that are being published, not only for inflation but also for growth, as was the case with European GDP. These figures could mark the route that the central banks will take in their monetary policies.
Tomorrow, on Friday, comes another highly relevant figure, the American CPI, which will undoubtedly also impact the markets.
But one thing to note is that the data showed the Eurozone economy grew much faster in Q1 2022 than in the previous three months, despite the war in Ukraine. This reflects Eurozone's economic stability. However, the chances that the ECB will raise the interest rates are significantly high.
The normalization of the European Central Bank's monetary policy - we must bear in mind that the reference rates are currently negative - could be a positive signal for the markets insofar as it is a tool to combat inflation, which, at the moment, is the main risk factor for the economy.
Still, the German DAX index fell yesterday by around 1.45% during the European session. Nevertheless, from a purely technical analysis perspective, it continues to show signs of recovery since about a month ago, it started an uptrend. This led it to break above the previous bearish parallel channel and now is placed between the 100 and 200-day moving averages that act as pivot levels.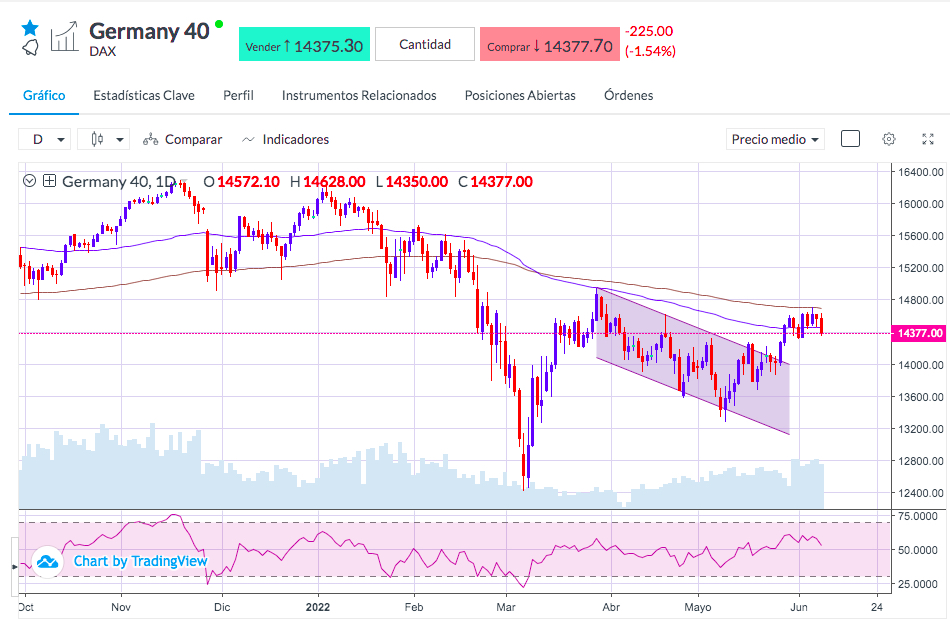 Sources: Bloomberg, Reuters
The information presented herein is prepared by Miguel A. Rodriguez and does not intend to constitute Investment Advice. The information herein is provided as a general marketing communication for information purposes only.

Users/readers should not rely solely on the information presented herewith and should do their own research/analysis by also reading the actual underlying research.

Key Way Markets Ltd does not influence nor has any input in formulating the information contained herein. The content herewith is generic and does not take into consideration individual personal circumstances, investment experience or current financial situation.

Therefore, Key Way Markets Ltd shall not accept any responsibility for any losses of traders due to the use and the content of the information presented herein. Past performance and forecasts are not reliable indicators of future results.