The U.S Dollar fell yesterday after the Federal Reserve remained firm on positions regarding its monetary policy.
What did the Fed Head say?
President Powell reiterated that there would be no changes in interest rates or the asset purchase program until employment figures reach pre-pandemic levels. Additionally, he referred to the latest upbeat NFP and unemployment reports, pointing out that this positive trend will need to continue before they start making any changes to its ultra-expansive monetary policy.
Mr Powell did not show any concern about the inflation figures, although he acknowledged that the expectations favour a rise. However, he said that this wouldn't pose any danger to the economy. In the end, he noted that some stocks could be vulnerable due to overvaluation.
The markets' reaction.
After Fed's meeting, the North American indices suffered a slight decline but recovered immediately afterwards.
The U.S Treasury Bond Yields also dropped, but they recovered today, with the 10-year benchmark reaching 1.65%, close to the previous highs of 1.77%. Everything seems to indicate that the upward movement of long-term interest rates in the United States will not stop and that investors do not expect a return to higher interest rates.
This upward movement also occurred in the European bond market, with the yield of the German bond hitting -0.22%, levels similar to those before the pandemic crisis.
The U.S. dollar weakened, threatening to break the last upward trend. However, it too recovered today. The dollar index crossed the uptrend line it entered at the beginning of the year. A daily close below this trend line would be necessary to end the upward trend of the Dollar.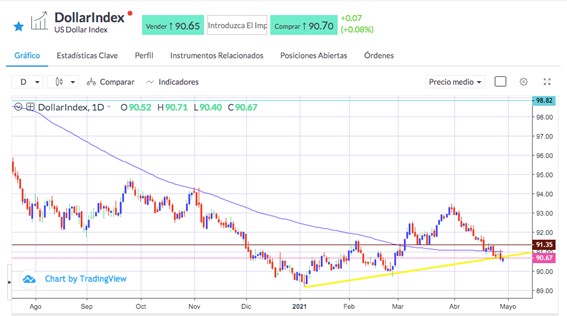 The same goes for EUR/USD. The pair crossed the downtrend line it entered at the beginning of the year and. From a technical analysis point of view, a close above 1.2125 would normally end it.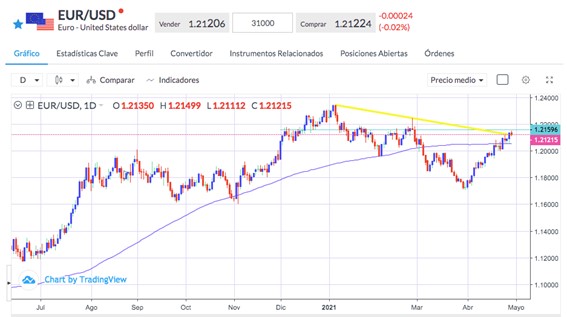 Sources: Bloomberg, reuters.com.
The information presented herein is prepared by Miguel A. Rodriguez and does not intend to constitute Investment Advice. The information herein is provided as a general marketing communication for information purposes only.

Users/readers should not rely solely on the information presented herewith and should do their own research/analysis by also reading the actual underlying research.

Key Way Markets Ltd does not influence nor has any input in formulating the information contained herein. The content herewith is generic and does not take into consideration individual personal circumstances, investment experience or current financial situation.

Therefore, Key Way Markets Ltd shall not accept any responsibility for any losses of traders due to the use and the content of the information presented herein. Past performance and forecasts are not reliable indicators of future results.