European stock indices lost steam, and bond yields rose (+6bp in Germany and +10bp in Italy) after CPI data in the Eurozone revealed a 3% in year-on-year inflation, surprising investors.
The CPI's result prompted ECB members Knot and Holzman to bring into discussion a potential end for the asset purchase program.
However, the representatives of the central banks of the Netherlands and Austria didn't surprise the markets. That's because they had always expressed their dissatisfaction with the ultra-expansionary monetary policy, and a rise in inflation could be the perfect justification for debating against ECB's current policy.
Still, analysts believe it is improbable that the ECB will change its policy in the short term, with inflation in the Eurozone not a major concern for the bank. Nevertheless, the market reacted to these statements with sales of European bonds and yields increases, which led to a strengthening of the euro.
How was the EUR/USD pair impacted?
This EUR/USD rally that took the pair to the 1.1844 zone was short-lived. After the United States consumer confidence figure fell to the minimum levels in the last six months due to the advance of the Delta variant and the sharp rise in prices, the Dollar strengthened again. That could be attributed to large buyer flows, which were widespread and occurred during August's last day. Technically, the EUR/USD pair remains around the main resistance zone located at 1.1805.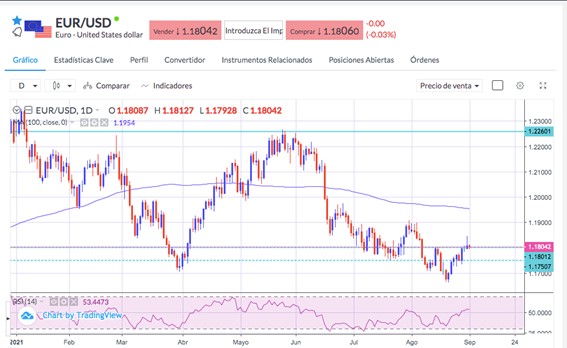 OPEC meeting coming up
As an important event today, we must highlight the OPEC meeting, during which a potential production increased should be discussed. Several members of the group appear to be in favor of returning to previous production levels due to the possibility that global crude demand would decline due to the Delta variant. However, it seems unlikely that such a decision could be adopted.
Sources: Bloomberg, reuters.com.
The information presented herein is prepared by Miguel A. Rodriguez and does not intend to constitute Investment Advice. The information herein is provided as a general marketing communication for information purposes only.

Users/readers should not rely solely on the information presented herewith and should do their own research/analysis by also reading the actual underlying research.

Key Way Markets Ltd does not influence nor has any input in formulating the information contained herein. The content herewith is generic and does not take into consideration individual personal circumstances, investment experience or current financial situation.

Therefore, Key Way Markets Ltd shall not accept any responsibility for any losses of traders due to the use and the content of the information presented herein. Past performance and forecasts are not reliable indicators of future results.