The UK inflation figure surprised with a rise above 10% year-on-year in July
This brought some concern to the European market due to the fear that high inflation figures would spread to the rest of the continent.
European bond yields increased, with the Bund hitting the 1.10% level, causing stock indices to decline. The German DAX closed the European session with more than 2% losses.
Yields on US Treasury bonds also rose, with the 10-year bond close to 2.90%.
The North American indices also experienced declines since the beginning of the session, following the wake of the European ones and awaiting the publication of the Fed meeting minutes.
This can be considered a technical correction after almost two months of consecutive rises and after reaching critical and overbought levels.
This is the case with DowJones30, which is close to a resistance level of 34.135. This represents the 0.618% Fibonacci retracement of the entire downward leg since the beginning of 2022, with a daily RSI level above 70, an area it has not reached since May 2021.
On the fundamental data side, the retail sales metrics were published yesterday, which can be seen as positive, with a rise of 10.02% in the interannual figure for July, well above what was expected by analysts.
In the afternoon, the minutes of the last Fed meeting were released, which a large part of the market expected would remain in the same hawkish tone as in previous meetings. However, the Fed was more flexible in making monetary policy decisions depending on economic data in the next meetings and even recognized that they should begin to reduce the intensity of rate hikes at some point. The probability that they only raise 50 bps in the September meeting is much higher. The market now places this at 60%.
With this, the treasury bond yields fell slightly from levels above 2.90% in the 10-year bond, and the American indices cut part of the day's losses.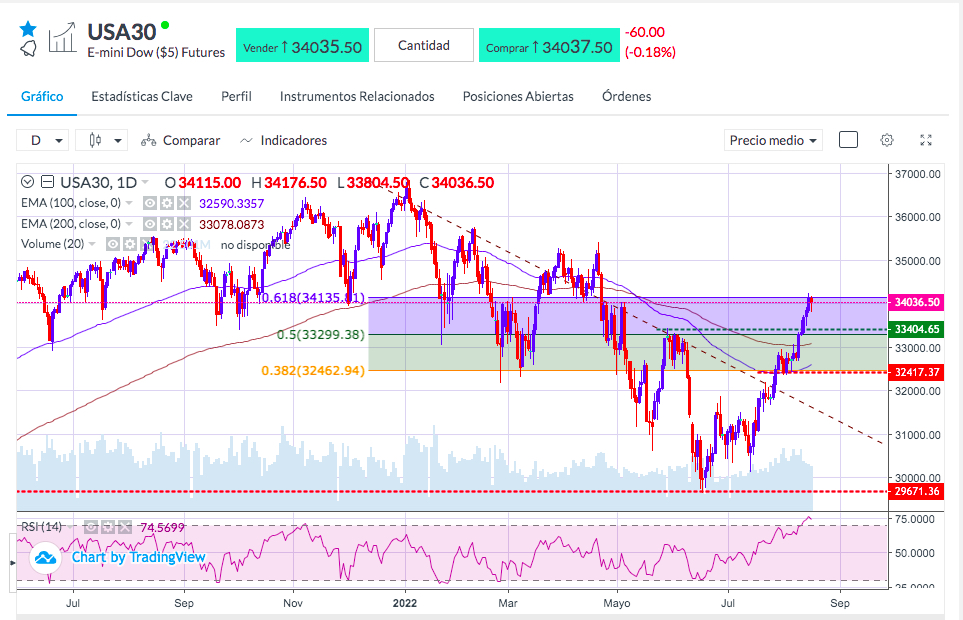 Sources: Bloomberg, Reuters
The information presented herein is prepared by Miguel A. Rodriguez and does not intend to constitute Investment Advice. The information herein is provided as a general marketing communication for information purposes only.

Users/readers should not rely solely on the information presented herewith and should do their own research/analysis by also reading the actual underlying research.

Key Way Markets Ltd does not influence nor has any input in formulating the information contained herein. The content herewith is generic and does not take into consideration individual personal circumstances, investment experience or current financial situation.

Therefore, Key Way Markets Ltd shall not accept any responsibility for any losses of traders due to the use and the content of the information presented herein. Past performance and forecasts are not reliable indicators of future results.