Apple, Amazon, Alphabet, Microsoft, and Meta Platforms, which together account for $8.9 trillion in market capitalization or a quarter of the Nasdaq index, will post quarterly earnings
So, all eyes are on the second quarter earnings these mega companies will release. Of course, the results will be a good indicator of the state of the US economy, how inflation has affected them, the impact of the rise in interest rates, and the impact of the enormous strength of the US Dollar on exports, etc. Microsoft Inc's share price dropped yesterday because Wells Fargo lowered its target price due to the negative impact of all the above aspects on the company's valuation, according to its analysis.
But companies' Q2 figures, which will begin to be published today after market close, will be the ones that definitively set the course for these stocks in the coming days, as well as for the stock market index of which they form an important part.
The decision the Federal Reserve takes tomorrow after concluding its two-day meeting will also be essential. Although the consensus is that they will repeat the 0.75-bps rate hike, the market will closely watch Powell's remarks at the press conference. He can give more clues about the future course of the US monetary policy. The market is already beginning to anticipate an end to interest rate hikes, even below the 3.5% federal funds rate that was initially touted. This could be positive for stock indices if the economy does not show alarming signs and the Federal Reserve growth forecasts remain optimistic as they have been in previous meetings.
DowJones 30 was relatively stable at the beginning of the week with a modest rise, still in the high zone since the end of June. Technically, it finds the first resistance at 31.965 points, the 61,8% Fibonacci retracement of the last leg down that started early last month.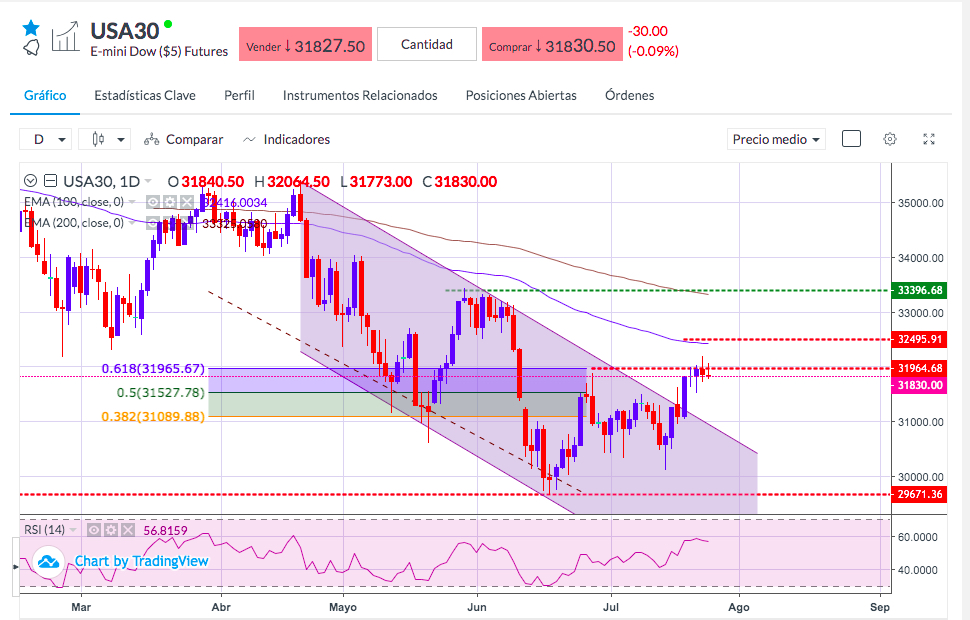 Sources: Bloomberg, Reuters
The information presented herein is prepared by Miguel A. Rodriguez and does not intend to constitute Investment Advice. The information herein is provided as a general marketing communication for information purposes only.

Users/readers should not rely solely on the information presented herewith and should do their own research/analysis by also reading the actual underlying research.

Key Way Markets Ltd does not influence nor has any input in formulating the information contained herein. The content herewith is generic and does not take into consideration individual personal circumstances, investment experience or current financial situation.

Therefore, Key Way Markets Ltd shall not accept any responsibility for any losses of traders due to the use and the content of the information presented herein. Past performance and forecasts are not reliable indicators of future results.