The dilemma over whether the Fed President will announce or not the start of the tapering process at the meeting in Jackson Hole continues to make headlines and keep markets hooked.
However, the likelihood of this announcement coming as early as the Jackson Hole meeting seems low. Investment banks such as Goldman Sachs, which had expected this decision to be announced in September, revised their forecast, now anticipating the tapering process to be announced as late as November, citing global uncertainty surrounding the coronavirus new variant.
However, the treasury bond market does not seem to rule out the possibility of an early announcement if we look at its performance in recent days. The 10-year American bond, Tnote, has been on a downtrend for a week, with yields rebounding to 1.35%. Having reached the support level around 133.50, this could pave the way for further falls in price, meaning yield increase, to around 1.50%.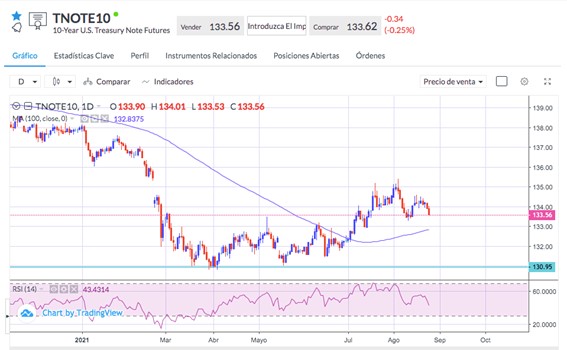 This behavior of the bonds market pushed the US Dollar slightly up, but not against all its counterparts. While USD/JPY rose above 110.00, the US currency weakened against the euro and the British Pound, in part due to the Dollar's drop in demand as a safe-haven currency in a lower risk aversion scenario.
The euro's recovery comes after the publication of Germany's IFO business climate for August, which revealed a figure below expectations – a potential sign of concerns in Germany regarding disruptions in supply chains hampering the country's production capacity.
Therefore, we might witness contrasting behaviours in different assets due to uncertainty regarding the pandemic's evolution and Fed's potential announcement.
On the other hand, the North American indices remained largely stable, posting minor gains, with USA30 approaching the maximum levels around the 35,544 level.
Contrary to what happened in the fixed income market, equities didn't have a notable reaction to news about the possibility of an early start of tapering. However, there are other factors that contributed to their performance, such as progress in negotiations on state infrastructure investment plans.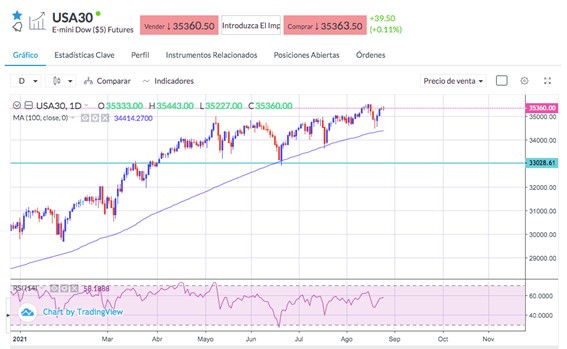 Sources: Bloomberg, reuters.com.
The information presented herein is prepared by Miguel A. Rodriguez and does not intend to constitute Investment Advice. The information herein is provided as a general marketing communication for information purposes only.

Users/readers should not rely solely on the information presented herewith and should do their own research/analysis by also reading the actual underlying research.

Key Way Markets Ltd does not influence nor has any input in formulating the information contained herein. The content herewith is generic and does not take into consideration individual personal circumstances, investment experience or current financial situation.

Therefore, Key Way Markets Ltd shall not accept any responsibility for any losses of traders due to the use and the content of the information presented herein. Past performance and forecasts are not reliable indicators of future results.