But the problem with the good news is that strong job creation is inflationary.
Last week, the US economy added 528,000 new jobs vs. 250,000 estimated, the unemployment rate hit 3.5% vs. 3.6% estimated, while the average hourly earnings went up to 0.5% vs. 0.3% estimated. These results prove that the Fed's goal of reaching full employment has been achieved.
However, the problem with this kind of good news is that strong job creation is inflationary. And since wild inflation data started coming out, this is now the Fed's main enemy, as officials have been saying for some time now. Although jobs are a lagging indicator, it is a proxy for inflation, as workers have more purchasing power.
The lower prices of raw materials registered lately may be a trigger to get inflation figures lower. But with a labor market on the rise and wages increasing, inflation expectations go up as well, and the Federal Reserve will be forced to continue with more aggressive interest rates. As a result of this employment figure, market interest rates rose.
The 2-year yield was up 19.1 basis points and 35 basis points for the week to 3.238%.
The 10-year yield was up 13.7 basis points yesterday and 17.3 basis points for the week at 2.827%. The 30-year yield was up 9.8 basis points and 5.4 basis points for the week at 3.066%
Still, Treasury bond yields are below the peak levels hit in recent weeks. As a result of this upward movement in market interest rates and the fact that forecasts for the next Fed meeting now call for a rise of 75 bps, the dollar strengthened.
The USD/JPY, the pair most sensitive to dollar interest rates, rose 200 pips on the day and broke the downward trend that had been running for a month.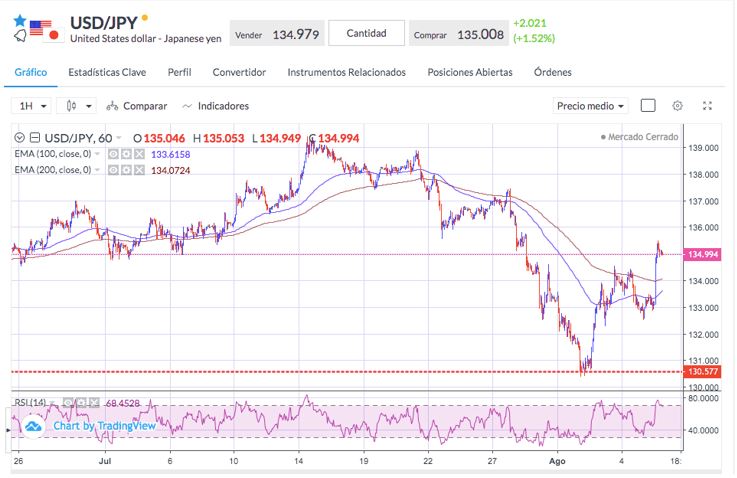 Sources: Bloomberg, Reuters.
The information presented herein is prepared by Miguel A. Rodriguez and does not intend to constitute Investment Advice. The information herein is provided as a general marketing communication for information purposes only.

Users/readers should not rely solely on the information presented herewith and should do their own research/analysis by also reading the actual underlying research.

Key Way Markets Ltd does not influence nor has any input in formulating the information contained herein. The content herewith is generic and does not take into consideration individual personal circumstances, investment experience or current financial situation.

Therefore, Key Way Markets Ltd shall not accept any responsibility for any losses of traders due to the use and the content of the information presented herein. Past performance and forecasts are not reliable indicators of future results.