High volatility in the market yesterday, with ups and downs in the stock indices. Nasdaq fell 0.70% during the session and ended the day practically unchanged.
Stock markets failed to witness further extensive corrections. Fund managers expect market interest rates to rebound close to maximum levels seen at the end of October before the Federal Reserve would announce the start of tapering and lean towards a more dovish bias than expected.
The debate on inflation is still very present among investors and central bank officials. The discussion of a potential need to raise interest rates is recurrent, with the governor of the Bank of England explicitly acknowledging it and some members of the Fed in favor of finalizing asset purchases earlier than initially planned.
The federal funds futures already anticipate increases in interest rates of more than 0.50% for next year. But the enormous liquidity that exists in the market prevents the stock market from correcting, something that should have happened in similar circumstances, even more if we take into account that the growth forecasts at a global level have been revised down, especially due to supply chain problems and high transport and energy costs.
In the foreign exchange market, the Dollar behaves as it usually does when the interest rate rises, it strengthens.
The interest rate differential favors the Dollar, and the selling pressure on the pair EUR/USD remains with a fall of 75 pips since yesterday. This is because we have a weak euro, caused by the monetary policy of the European Central Bank, which will inevitably remain expansive for some time compared to the rest of the central banks.
From a technical perspective, the pair has already broken important support levels and is approaching the 6.18% Fibonacci retracement of the bullish leg that began in March 2020, located at 1.1292, below this level it makes its way to the theoretical target of the large double top that was formed between January and May 2021 and that is located between the area of ​​1.1150 and 1.1200.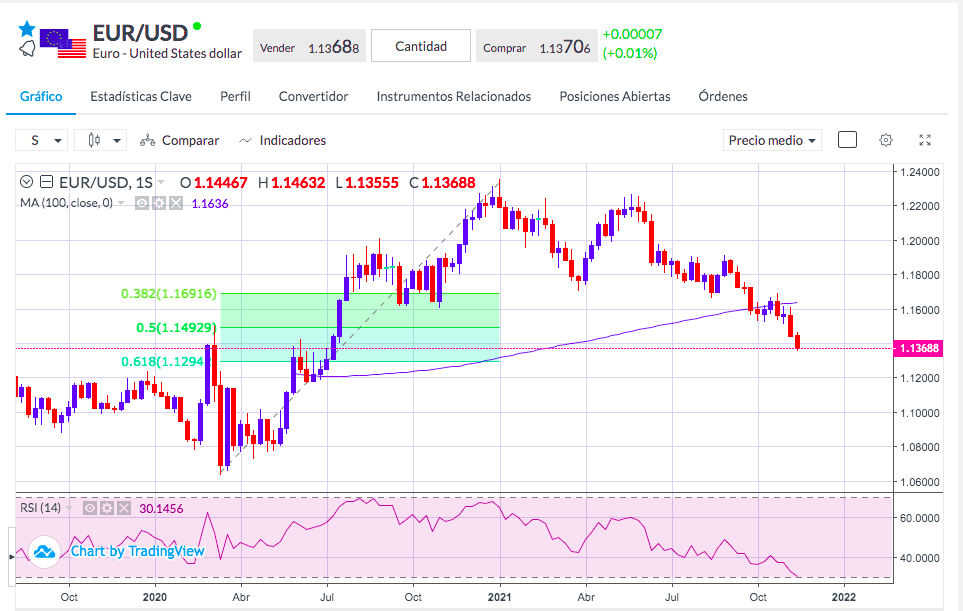 Sources: Bloomberg, Reuters
The information presented herein is prepared by Miguel A. Rodriguez and does not intend to constitute Investment Advice. The information herein is provided as a general marketing communication for information purposes only.

Users/readers should not rely solely on the information presented herewith and should do their own research/analysis by also reading the actual underlying research.

Key Way Markets Ltd does not influence nor has any input in formulating the information contained herein. The content herewith is generic and does not take into consideration individual personal circumstances, investment experience or current financial situation.

Therefore, Key Way Markets Ltd shall not accept any responsibility for any losses of traders due to the use and the content of the information presented herein. Past performance and forecasts are not reliable indicators of future results.