Nasdaq lower amid gloomy forecast from Micron Technology
The Nasdaq index fell Tuesday at the start of the session after Nvidia suffered a severe setback on Monday and Micron Technology fell around 6% yesterday. The latter lowered the chip and technology stocks following a negative earnings forecast.
The market is waiting for today's US CPI data. The figures will be relevant to the Fed's upcoming monetary policy decision.
High inflation, especially in the core CPI, will likely push the Fed to keep interest rate hikes at their highest range. It will also negatively affect the recent recovery in stock markets.
Analysts forecast a 70% chance the Fed will raise interest rates by 75 basis points in September, possibly marking its third consecutive big hike. On the other hand, any decline in the CPI figures would make these expectations disappear and would mean a fall in the yields of treasury bonds and the US Dollar, as well as boost stock indices. Federal Reserve Chairman Jerome Powell stated at his latest press conference that the market is now extremely data dependent.
In addition to this important inflation figure that will be published today, the market will closely watch the inflation expectations data of Michigan University. The latter will be posted at the end of the week and closely followed by the Federal Reserve. Therefore, it has a strong influence on the market.
Of the Wall Street indices, the one that fell the most yesterday was the technological Nasdaq due to factors related to Micron Technology and Nvidia and because it is the most sensitive to the Fed's monetary policy. Before the CPI release, which will be decisive for the evolution of interest rates, it is natural that traders close long positions and prepare for the figure.
From a technical point of view, the index corrects from the upper part of the bearish channel that has been operating since the beginning of the year and where the 200-day moving average passes. A break above these levels would signal the end of the bear market.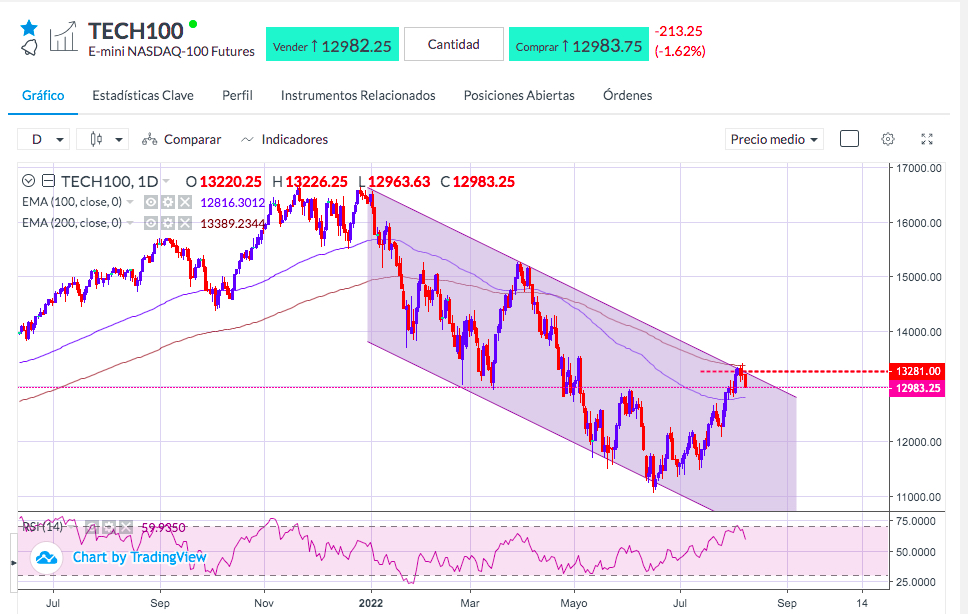 Sources: Bloomberg, Reuters
The information presented herein is prepared by Miguel A. Rodriguez and does not intend to constitute Investment Advice. The information herein is provided as a general marketing communication for information purposes only.

Users/readers should not rely solely on the information presented herewith and should do their own research/analysis by also reading the actual underlying research.

Key Way Markets Ltd does not influence nor has any input in formulating the information contained herein. The content herewith is generic and does not take into consideration individual personal circumstances, investment experience or current financial situation.

Therefore, Key Way Markets Ltd shall not accept any responsibility for any losses of traders due to the use and the content of the information presented herein. Past performance and forecasts are not reliable indicators of future results.