Stock markets posted modest gains on Monday for the second day in a row after last week's sharp losses
The market is preparing for a series of speakers from the US Federal Reserve this week, where they could underline the commitment to fight inflation in a determined way. This is something that investors have already assumed and that some Fed members have corroborated in recent statements, as Bullard did yesterday.
It could also be the case that Powell, who will speak this week, would be more flexible and cast some optimism on the market. This could happen if, in his remarks, he leaves open the possibility of a less restrictive policy if the inflation figures improve in the coming months.
Meanwhile, on a quiet US holiday, Wall Street Index futures posted gains that can be simple technical corrections from the previous day's declines.
The best performer was the technological Nasdaq, with an advance of 0.90%, but still far from the resistance zone of 11,790, where it should gain upward momentum if it exceeds it.
European stock markets also performed well after the fall caused by the announcement of the end of bond purchases by the ECB. The subsequent declarations by which the European Central Bank undertook to create a mechanism that would prevent the fragmentation of the European debt market helped the latter gain confidence, reflected in the European indices.
Despite elections results in France, where President Macron lost the majority in the legislative chamber, potentially causing instability in Europe, the German DAX index rose 1% yesterday but was still in a downtrend.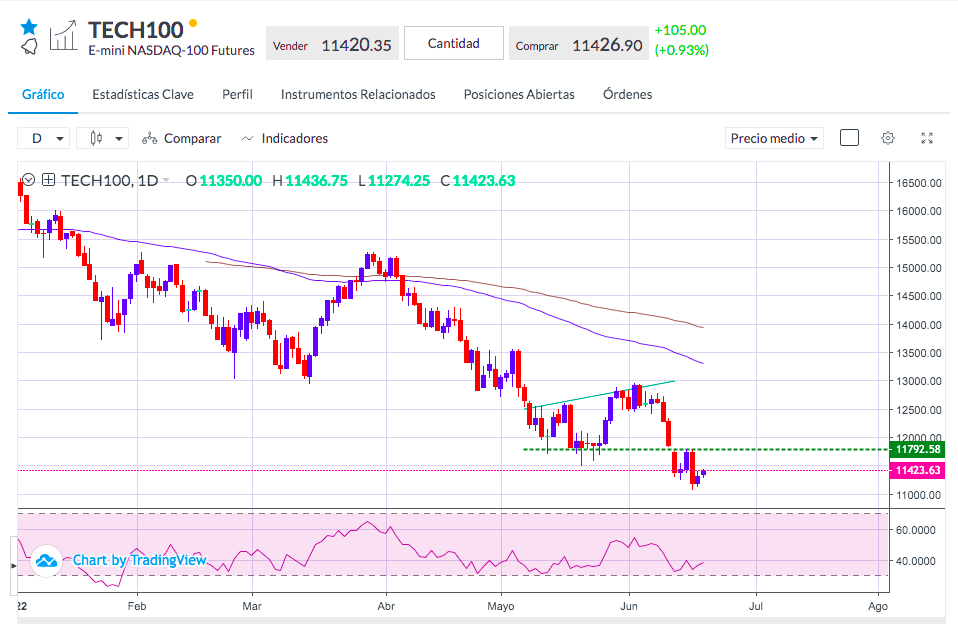 Sources: Bloomberg.com, reuters.com
The information presented herein is prepared by Miguel A. Rodriguez and does not intend to constitute Investment Advice. The information herein is provided as a general marketing communication for information purposes only.

Users/readers should not rely solely on the information presented herewith and should do their own research/analysis by also reading the actual underlying research.

Key Way Markets Ltd does not influence nor has any input in formulating the information contained herein. The content herewith is generic and does not take into consideration individual personal circumstances, investment experience or current financial situation.

Therefore, Key Way Markets Ltd shall not accept any responsibility for any losses of traders due to the use and the content of the information presented herein. Past performance and forecasts are not reliable indicators of future results.