However, the financial markets continued to exhibit a pessimistic mood due to Ukraine border tensions and Fed's imminent rate hikes.
The results published during the session were all over the place, with earnings above expectations for American Express and below for Johnson & Johnson. After the market closed, Microsoft's data was released, beating expectations with revenues of 51.73 billion, mainly due to the company's cloud business. Still, the stock dropped 5%.
Buy on the rumor and sell on the news? Very possible. But it is more likely that the gloomy market sentiment due to geopolitical tension and uncertainty about what the Federal Reserve would do today weighs more heavily on investors' decisions.
The US central bank in the spotlight
The consensus is that tapering will end in March and that the Fed is also targetting a rate hike for the March meeting.
But voices as reputable as Bank of America are emerging, warning that the Fed could announce the latest round of asset purchases at this January FOMC meeting, potentially deciding to take a more aggressive turn such as reducing the balance sheet drastically. Additionally, after the March meeting where the first rate hike should occur, the Fed could announce that all the following sessions will be broadcast live, leading the markets to anticipate increases of more than 1% for this year.
If this second scenario occurs, the US dollar could benefit the most from the foreseeable widening of the interest rate differential against the rest of its competitors. Yesterday's US Treasury bond yields rally, which took the 10-year to 1.80%, had an immediate bullish effect on the dollar, dragging EUR/USD to 1.1267, the lowest levels since late December.
The average market forecasts lean towards a EUR/USD bearish, with a first target at the 1.1185 zone - the November lows. The pair could continue to retreat towards the 1.1000-1.1050 levels in the medium term.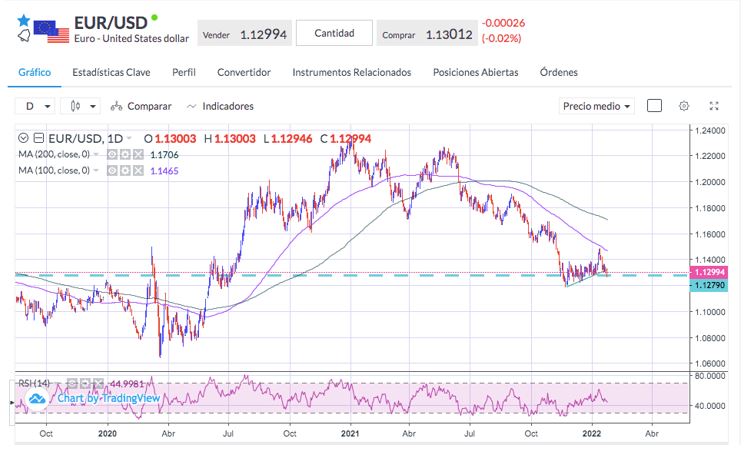 Sources: Bloomberg, Reuters.
The information presented herein is prepared by Miguel A. Rodriguez and does not intend to constitute Investment Advice. The information herein is provided as a general marketing communication for information purposes only.

Users/readers should not rely solely on the information presented herewith and should do their own research/analysis by also reading the actual underlying research.

Key Way Markets Ltd does not influence nor has any input in formulating the information contained herein. The content herewith is generic and does not take into consideration individual personal circumstances, investment experience or current financial situation.

Therefore, Key Way Markets Ltd shall not accept any responsibility for any losses of traders due to the use and the content of the information presented herein. Past performance and forecasts are not reliable indicators of future results.