Finally, the 35% drop of Netflix impacts the North American indices
The collapse of the streaming company dragged down most technology companies. The Nasdaq index could not raise its head during the session and ended in the red, although moderately. However, this was not the case for the other two indices that remained positive.
The fundamental scenario had improved with market interest rates falling slightly. The 10-year bond settled at 2.83%. The beige book report showed that the Fed was not overly concerned about inflation and showed improvements in the American manufacturing sector.
The idea that inflation peaked, and that the Federal Reserve probably doesn't have to be as aggressive with interest rates as already priced, is spreading in the markets.
Yesterday, Bank of America published a report that recommended the purchase of treasury bonds to its clients. Also, it expects the 10-year bond yield to fall to the 2.25% zone soon. This would undoubtedly be very good news for the stock markets, especially for technology stocks, since it would be a sign that inflation is slowing down. It could also mean that the Fed will not need to take measures as restrictive as anticipated (the more restrictive and staunch the measures, the bigger the bite to economic growth).
But what rules the market is the Q1 earnings reports being published. Following this line, next week will be crucial since Microsoft, Apple, or Amazon earnings are to be announced.
As a preview, Tesla released 1st quarter revenue just after the regular trading session, and the numbers were positive. The company reported revenues of $18.76B, well above expectations, which pushed the stock to rise over 5% immediately after closing. All this after the stock lost around 4% during the session. This movement will have a significant impact on the Nasdaq index given the high capitalization of Tesla - 1.02 trillion Dollars.
Nasdaq closed slightly lower yesterday but is still in a potential reversal pattern that would trigger above the 14,280 points area and push it to levels around 14,820, all from a technical analysis point of view.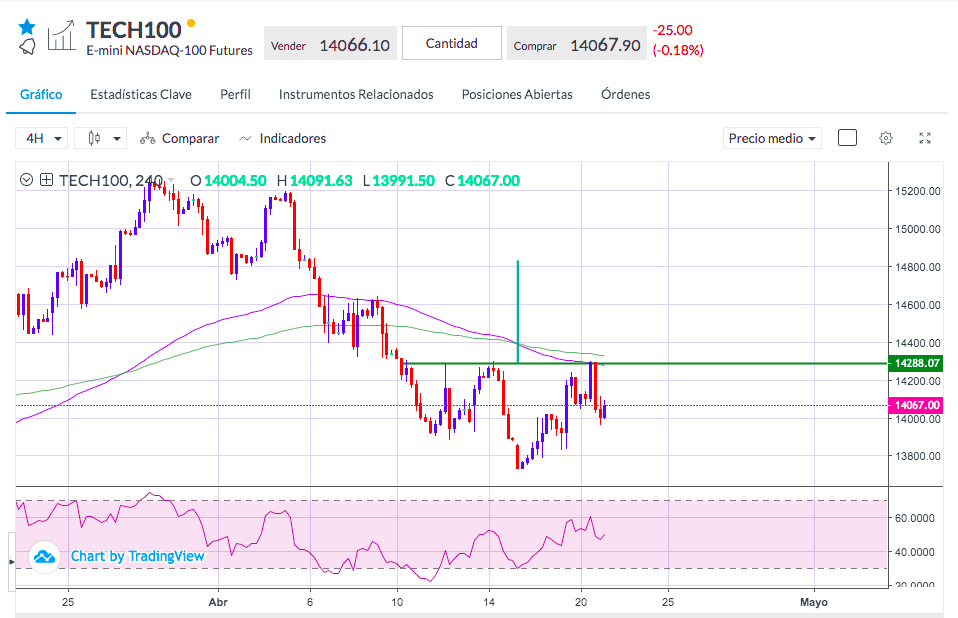 Sources: Bloomberg, Reuters
The information presented herein is prepared by Miguel A. Rodriguez and does not intend to constitute Investment Advice. The information herein is provided as a general marketing communication for information purposes only.

Users/readers should not rely solely on the information presented herewith and should do their own research/analysis by also reading the actual underlying research.

Key Way Markets Ltd does not influence nor has any input in formulating the information contained herein. The content herewith is generic and does not take into consideration individual personal circumstances, investment experience or current financial situation.

Therefore, Key Way Markets Ltd shall not accept any responsibility for any losses of traders due to the use and the content of the information presented herein. Past performance and forecasts are not reliable indicators of future results.