Markets expected an agreement for an oil production increase from OPEC+ latest meeting, but it never happened, so what's next?
The meeting of OPEC+, the oil-producing countries, ended without any significant agreement.
As expected, the member countries decided to continue with their current policy of increasing production by 400k BPD. An increase that might not calm the markets that are powerlessly witnessing the upward race in energy raw materials, threatening to cause a slowdown of global growth in addition to a sustained rise in price levels or inflation.
This scenario would be the most feared, not only by investors but also by the political and monetary authorities. As soon as they announced the decision, the price of oil experienced strong upward momentum with rises around 3% that took it to levels not seen since 2014, which was expected in the first place.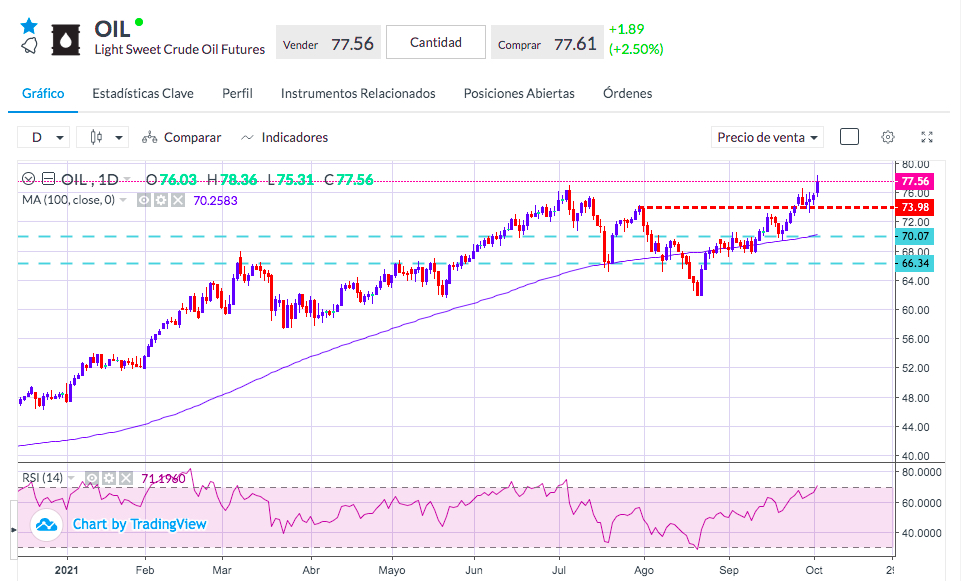 In case of a long upward momentum, it can increase negative market sentiments about the future of the economies, with relevance to Natural Gas that rose around 7%.
The market reacted in the traditional style of risk aversion when facing these gloomy prospects by buying treasury bonds, which in the case of the American Tnote, its yield fell to the level of 1.48%. Although the Federal Reserve has already almost committed to starting tapering with capital flows towards the Japanese yen, which made the USD/JPY fall below 111.00 and with massive sales of the stock indices.
We should note that the stock markets were already suffering strong downward pressure due to both: the announcement of ending the stimulus policies by the Federal Reserve and the bad news from China with companies the size of Evergrande defaulting.
And as usual, the most affected index was the Nasdaq technology that technically closed below the critical 100-day SMA line, something that had not happened for five months, and crossed the support level located around 14,500.
From a technical perspective, a continuation of the bearish movement below this zone would threaten to end the entire bull market for the index.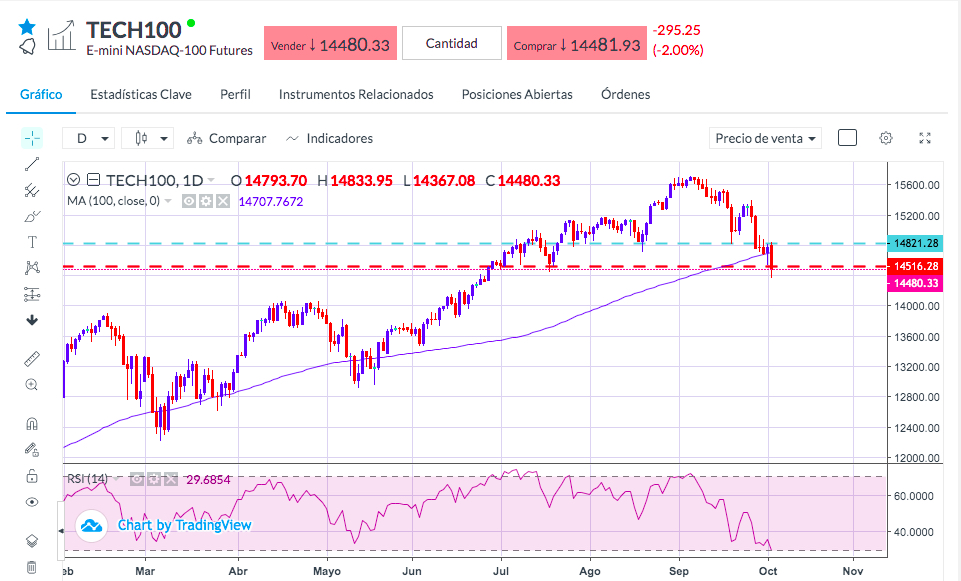 Sources: Bloomberg, Reuters
The information presented herein is prepared by Miguel A. Rodriguez and does not intend to constitute Investment Advice. The information herein is provided as a general marketing communication for information purposes only.

Users/readers should not rely solely on the information presented herewith and should do their own research/analysis by also reading the actual underlying research.

Key Way Markets Ltd does not influence nor has any input in formulating the information contained herein. The content herewith is generic and does not take into consideration individual personal circumstances, investment experience or current financial situation.

Therefore, Key Way Markets Ltd shall not accept any responsibility for any losses of traders due to the use and the content of the information presented herein. Past performance and forecasts are not reliable indicators of future results.