US yields retreat amid recession risks
Before the opening bell, Wall Street was in the green, driven by encouraging news from China announcing the end of restrictions in some key areas of its territory. At the same time, after a long period during the pandemic crisis, US banks finally announced that they will increase dividends.
But half an hour after the trading session began, the Consumer Confidence figure again shaded investor sentiment. June's data fell below 100 to 98.7, after a downward revision from the previous month to 103.2.
With this, fears of an economic recession returned due to a contraction in domestic demand, which is one of the main components of the gross domestic product figure.
Bond yields fell from the day's highs. The 10-year bond fell from 3.25% to 3.19%.
With expectations of an economy with low growth or not at all, if it enters a recession, the Fed will not be able to be as aggressive with rate hikes, and that is what the market reflected at that time. The question is whether these setbacks in the leading indicators of the US economy are the prelude to a recession, as some anticipate, this s just a normal slowdown that occurs and should occur after a change in monetary policy from an ultra-expansive period to a more restrictive one.
What is certain is that in the event of further declines in the figures of the leading indicators, the Fed will not need to take interest rates to excessively high levels since inflation will most likely recede due to lower domestic demand.
The key figure will be known tomorrow with the personal consumption expenditure data, the Fed's preferred measure of inflation to determine its monetary policy.
Probably due to the end of the quarter and semester portfolio adjustments, the stock indices yesterday experienced sharp falls which cannot be attributed to a single bad data on consumer confidence.
The Nasdaq index fell more than 3%, reversing the advances of the previous two days, waiting for the events in these last two days of the month.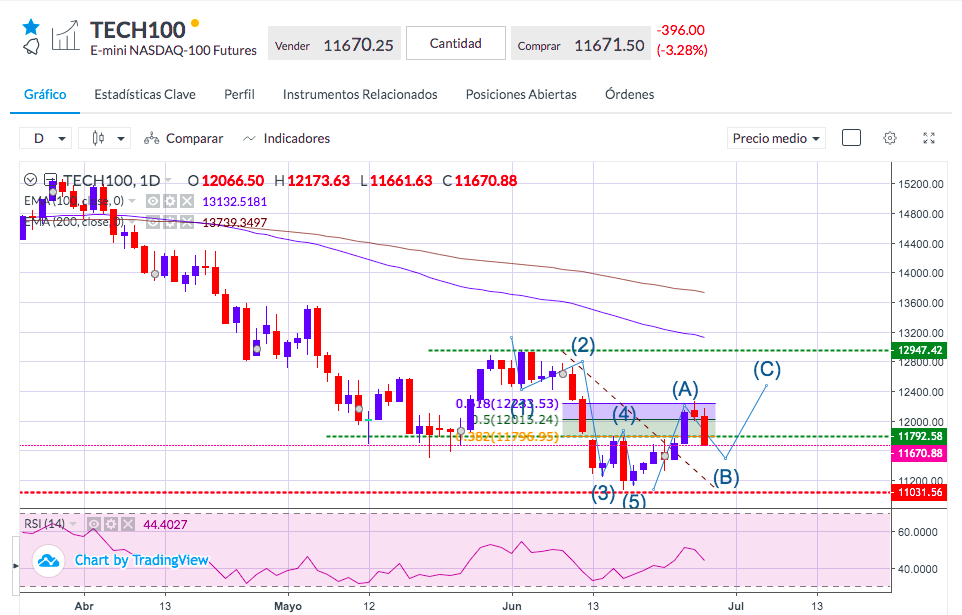 Sources: Bloomberg.com, reuters.com
The information presented herein is prepared by Miguel A. Rodriguez and does not intend to constitute Investment Advice. The information herein is provided as a general marketing communication for information purposes only.

Users/readers should not rely solely on the information presented herewith and should do their own research/analysis by also reading the actual underlying research.

Key Way Markets Ltd does not influence nor has any input in formulating the information contained herein. The content herewith is generic and does not take into consideration individual personal circumstances, investment experience or current financial situation.

Therefore, Key Way Markets Ltd shall not accept any responsibility for any losses of traders due to the use and the content of the information presented herein. Past performance and forecasts are not reliable indicators of future results.