The North American S&P 500 index reached a new all-time high on Thursday, driven by energy stocks. Oil prices rose due to OPEC+ failing to reach a consensus on the increase in production.
The OPEC + meeting had to be postponed one day after the United Arab Emirates was unwilling to accept a preliminary agreement for an increase of 0.5 million barrels per day. Another proposal, this time for gradual increases in 400k bpd each month until December, which would mean an additional supply of 2M bpd, was also rejected. The UAE and Iraq considered it excessive, considering Iran's possible market entry in the near future.
Oil prices remained near their highest level since October 2018, as potentially higher production is expected to be comfortably absorbed by an undersupplied market amid strong demand.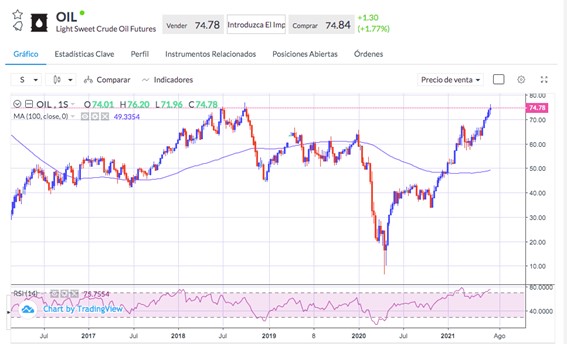 According to energy market analysts, an increase of 500k bpd and even 1M bpd could hardly prevent a further rise in oil prices, as OPEC estimates demand will exceed the current market supply by 1.9 million barrels per day in the second half of the year.
The currency market.
Meanwhile, in the currency market, the U.S. Dollar does not stop its upward path before the employment figures scheduled for today. The NFP forecasts are optimistic, estimating a figure of 700k and a decrease in the unemployment rate up to 5.7%. The better-than-expected ADP Non-farm employment figures released on Thursday also contributed to these good expectations in addition to the employment components of the PMI figures.
The Dollar's strength is encouraged by the increasingly frequent comments of Fed members, who seem to be in favor of starting the reduction of asset purchases and the withdrawal of stimuli as early as this year. In such a context, the Treasury Bond Yields advanced, but are still far from the highest levels reached recently.
The U.S. Dollar rose against all its counterparts, with the most significant gains against the British pound. GBP/USD is approaching a critical support level located at 1.3672 below, which the uptrend that began last September could end, paving its way to further losses.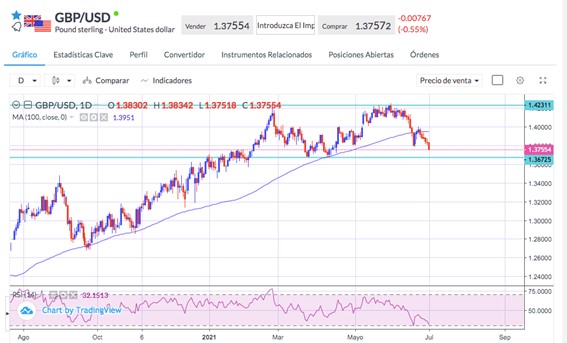 Sources: Bloomberg, reuters.com.
The information presented herein is prepared by Miguel A. Rodriguez and does not intend to constitute Investment Advice. The information herein is provided as a general marketing communication for information purposes only.

Users/readers should not rely solely on the information presented herewith and should do their own research/analysis by also reading the actual underlying research.

Key Way Markets Ltd does not influence nor has any input in formulating the information contained herein. The content herewith is generic and does not take into consideration individual personal circumstances, investment experience or current financial situation.

Therefore, Key Way Markets Ltd shall not accept any responsibility for any losses of traders due to the use and the content of the information presented herein. Past performance and forecasts are not reliable indicators of future results.