Stocks experienced falls in early Monday trading after Friday's bullish session, driven by improvements in July PMIs, signaling optimism for European markets.
However, the Germany30 index has not yet managed to regain momentum to overcome the resistance zone located at the highs of 15,797 while waiting for new figures to support an upward momentum. The IFO figure released today did not help, as it missed expectations.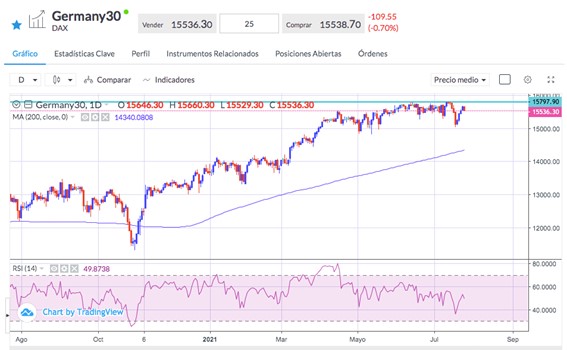 Fed's upcoming meeting
This week's most important event could be the Federal Reserve meeting, although the markets don't expect any changes in interest rates or the bond purchase program. At the previous meeting, the Federal Reserve changed its bias from extremely dovish to moderately dovish by mentioning two rate hikes for 2023. However, Mr Powell ruled out the possibility of a radical change in monetary policy in the short term due to uncertainty surrounding the evolution of the economic recovery. He downplayed the last inflationary upswing by considering it a transitory phenomenon.
Also, no announcement is expected regarding the start of the bond purchase reduction, which could occur at the next meeting in Jackson Hole on August 26. The potential change in the Fed's monetary policy will continue to depend mainly on employment data, the main objective of monetary policy, which still does not show a solid recovery to approach the level of full employment. However, the data inflation rates that continue to rise could be a decisive factor when starting the "tapering". Although it is not expected for this meeting, any unexpected comment could have a significant impact on the markets and especially on the U.S. Dollar and U.S. treasury bonds.
The North American currency maintains its bullish tone, although without a clear continuation of the movement. The USD /JPY, which is highly correlated with the U.S Treasury Bond Yields, lost some ground today and did not manage to overcome the resistance zone located at 110.75. The RSI indicator is in neutral territory, with everything depending on the evolution of long-term interest rates and the Fed's other monetary policy decisions.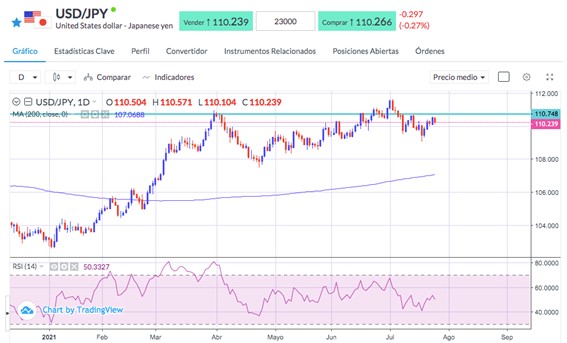 Sources: Bloomberg, reuters.com.
The information presented herein is prepared by Miguel A. Rodriguez and does not intend to constitute Investment Advice. The information herein is provided as a general marketing communication for information purposes only.

Users/readers should not rely solely on the information presented herewith and should do their own research/analysis by also reading the actual underlying research.

Key Way Markets Ltd does not influence nor has any input in formulating the information contained herein. The content herewith is generic and does not take into consideration individual personal circumstances, investment experience or current financial situation.

Therefore, Key Way Markets Ltd shall not accept any responsibility for any losses of traders due to the use and the content of the information presented herein. Past performance and forecasts are not reliable indicators of future results.