Fed Chairman Powell did little to calm the troubled analysts & investors.
Mr. Powell said, in his second day of testimony in the US Congress, that Russia's war in Ukraine could affect the US economy by leading to a significant decrease in spending and investments, which translates into higher prices.
US stock indices, which had started the session with gains, fell to close with losses due to investors' fear of the threat of stagflation that Powell anticipated in his statements.
Investors are now wondering what the reaction of the Federal Reserve will be facing the threats of rising inflation and slowing economic growth. As was commented in the market, the fear is not because of possible stagflation but of the Fed's reaction in this scenario.
Paradoxically, suppose the US employment figure published today will show strength, especially in the wage component. In that case, it could be interpreted negatively in the market, considering that the Fed's reaction in terms of interest rates could be more aggressive than was expected just two days ago.
In short, indecision and uncertainty prevail in a market that continues to be dominated by news from Ukraine and the unpredictability of the conflict. The defensive stocks are the ones that have shown the best performance in the markets, while the growth stocks have suffered considerable losses.
Nasdaq was the most affected index, with more than 1.5% falls. However, from a technical analysis perspective, it didn't suffer notable changes compared to the last days when it traded in a mixed manner, a characteristic movement of an indecisive market.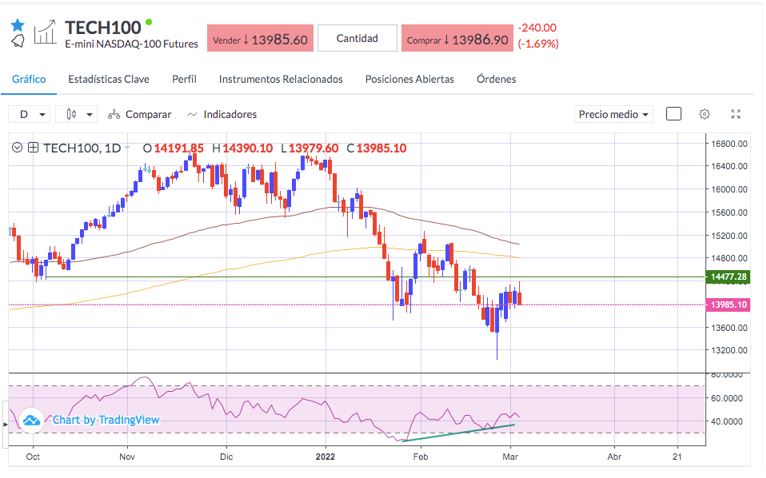 After reaching the maximum level of $116.50/barrel, oil corrected downwards. The black gold's price fell not because the conflict between Russia and Ukraine improved, which unfortunately is still in full war confrontation, but because news has arrived that an agreement has probably already been reached with Iran to lift sanctions.
According to the daily RSI, oil is in an overbought situation but still far from levels that can be considered as pivots or the beginning of a trend change.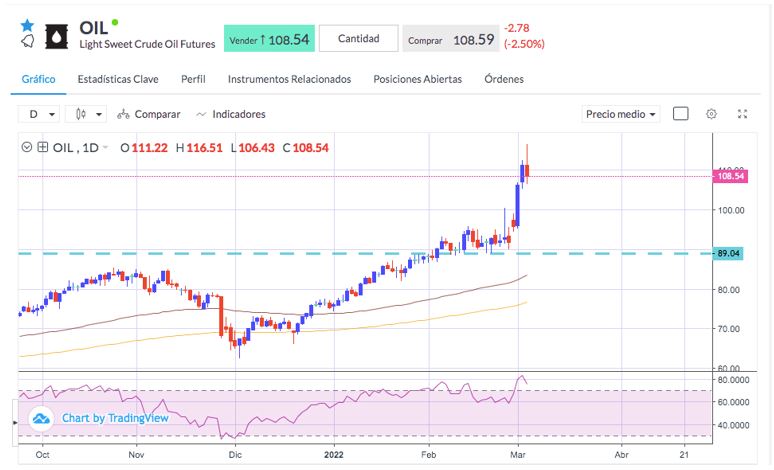 Sources: Bloomberg, Reuters.
The information presented herein is prepared by Miguel A. Rodriguez and does not intend to constitute Investment Advice. The information herein is provided as a general marketing communication for information purposes only.

Users/readers should not rely solely on the information presented herewith and should do their own research/analysis by also reading the actual underlying research.

Key Way Markets Ltd does not influence nor has any input in formulating the information contained herein. The content herewith is generic and does not take into consideration individual personal circumstances, investment experience or current financial situation.

Therefore, Key Way Markets Ltd shall not accept any responsibility for any losses of traders due to the use and the content of the information presented herein. Past performance and forecasts are not reliable indicators of future results.