The US central bank did not make any changes or announcements regarding monetary policy, interest rates, or the tapering end date.
However, President Powell kept a hawkish tone during his statements and press conference, confirming that interest rates would be raised at the March meeting. He also left open the possibility of more than three or four rate hikes. In addition, the Fed president said that they have plenty of room to raise interest rates and expressed his concerns about the evolution of inflation, which he expects to remain high for a long time to come.
Regarding the reduction of the balance sheet, Powell stated that it is possible to move sooner and faster than in the past. The decision in this regard will be made once rates begin to rise – which could be as early as May. The Fed head added that the size of the bank's balance sheet was disproportionate given current conditions, with high inflation, a fully employed job market, and the economy still on the rise.
What was the impact in the financial markets?
President Powell's statements gave enough reasons to market participants to anticipate a substantial change in monetary policy towards much more restrictive measures.
Treasury bond yields immediately reacted, with the 10-year benchmark reaching levels close to recent highs of 1.88%. US stock indices, which had recovered remarkably before the Fed meeting - Nasdaq had jumped 4% - lost all ground.
The DowJones got near an important support level around 33,680, a level that has so far withstood all breakout attempts and which marks the area below which downward pressure would intensify.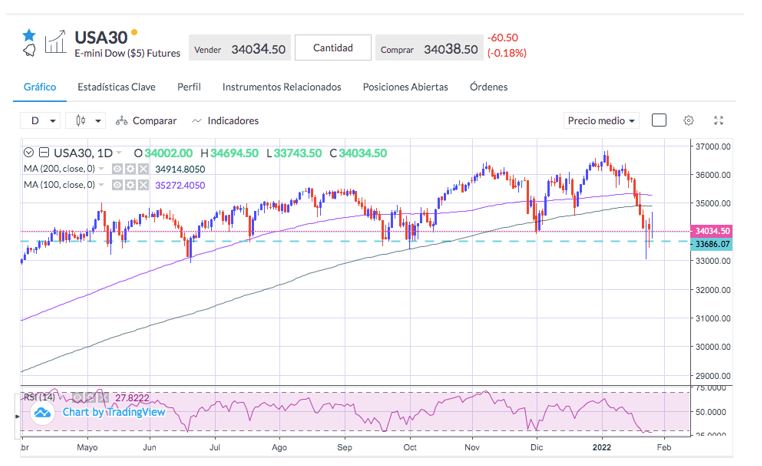 The dollar strengthened against all its peers in the forex market due to expectations of higher interest rates, especially against the euro, which fell to the 1.1230 area – the lowest level seen since last December.
GOLD, which had been threatening to take off higher due to the inaction of the Fed and the high levels of inflation, fell back after Fed's stance was revealed. The precious metal lost almost $30 and was back below the pivot area of ​​$1832.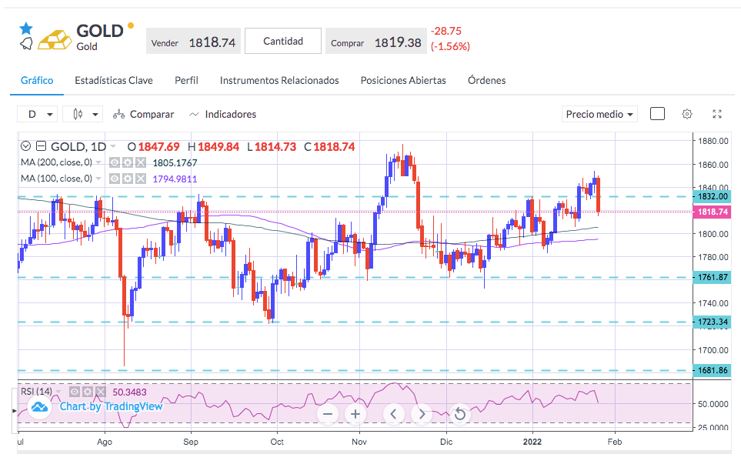 Sources: Bloomberg, Reuters.
The information presented herein is prepared by Miguel A. Rodriguez and does not intend to constitute Investment Advice. The information herein is provided as a general marketing communication for information purposes only.

Users/readers should not rely solely on the information presented herewith and should do their own research/analysis by also reading the actual underlying research.

Key Way Markets Ltd does not influence nor has any input in formulating the information contained herein. The content herewith is generic and does not take into consideration individual personal circumstances, investment experience or current financial situation.

Therefore, Key Way Markets Ltd shall not accept any responsibility for any losses of traders due to the use and the content of the information presented herein. Past performance and forecasts are not reliable indicators of future results.