US Treasury bond yields resumed their decline, with the 10-year yield reaching the 2.71% zone.
The inflation data published in the different countries showed extremely high figures, as was the case in the United Kingdom yesterday, with a year-on-year CPI of 7%.
However, the feeling that inflation has reached its peak, at least in the United States, is spreading. As proof of this is the decline in bond yields that occurred along the curve, including bonds of shorter duration.
Consequently, the stock markets rose, especially the North American indices, despite the worst result published by JP Morgan, which fell by just over 3%. Today will be a key day for US banks as they release earnings from WellsFargo, Citigroup, Morgan Stanley, and Goldman Sachs. This data could be very relevant for the performance of the shares of these banks and the indices in general.
Another important event today will be the ECB meeting, which, as on recent occasions, is not expected to announce any change in monetary policy. But, as always, Lagarde's comments may have repercussions on European bonds and the euro, especially if her speech implies a shift in bias somewhat more hawkish in line with the rest of the central banks.
The market's attention was also focused on the behavior of oil, which experienced a notable rise. Crude prices began their ascent as China lifted some of its strictest Covid-19 lockdown measures in the past two weeks, raising hopes of a rebound in energy consumption in the world's second-largest oil consumer.
Oil was also helped in the previous session by OPEC's warning that its members will not compensate for Russian production lost due to Western sanctions.
Another piece of data on Wednesday that pushed crude higher was published by the Energy Information Administration that indicated higher fuel consumption in the US.
Oil was up over 3% and is moving away from major support at 94.75, now the pivot zone between a bull and bear market.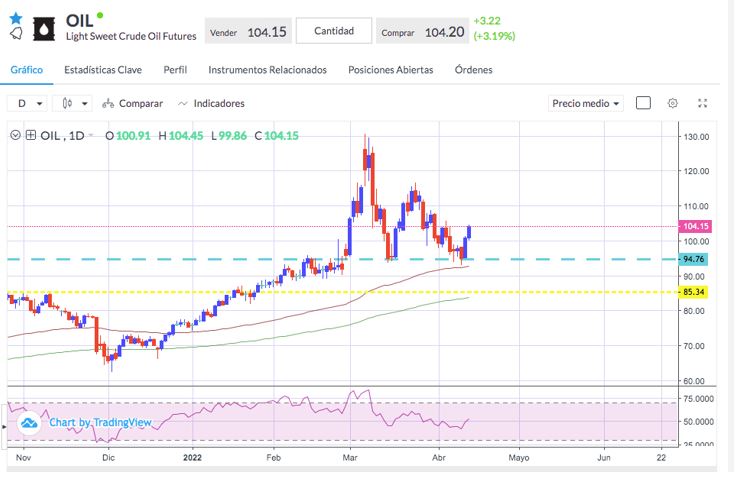 Sources: Bloomberg, Reuters.
The information presented herein is prepared by Miguel A. Rodriguez and does not intend to constitute Investment Advice. The information herein is provided as a general marketing communication for information purposes only.

Users/readers should not rely solely on the information presented herewith and should do their own research/analysis by also reading the actual underlying research.

Key Way Markets Ltd does not influence nor has any input in formulating the information contained herein. The content herewith is generic and does not take into consideration individual personal circumstances, investment experience or current financial situation.

Therefore, Key Way Markets Ltd shall not accept any responsibility for any losses of traders due to the use and the content of the information presented herein. Past performance and forecasts are not reliable indicators of future results.