The U.S. Dollar advanced during early Friday trading supported by the rise of U.S. Treasury Bonds yields and awaiting the publication of one of the main inflation data, Core PCE Price Index.
According to several North American news sources, President Joe Biden could announce a budget of $6 trillion for 2022 to ensure investments in large projects of infrastructure, education, and health as early as today. This would provide additional support to the economy and the national currency, pushing federal spending to its highest levels since World War II.
Unemployment claims figures hit a post-pandemic low.
The latest unemployment claims report showed the number of Americans who filed new applications for unemployment benefits was reduced to a post-pandemic low of 406,000, providing a much-needed boost for the upcoming NFP report due next week.
The unveiling of the Federal Reserve's key inflation indicator, the Personal Consumption Expenditure, could feed more expectations for a more tightened monetary policy.
Analyst forecasts for the PCE Price Index to hit 2.9% year-on-year in April, well above the Fed's target of 2%, and the 1.8% year-on-year increase from March.
Due to the above reasons, the U.S. Dollar rose slightly before the publication of this news, but still without going on a clear trend.
The dollar index is currently near a support zone located at the 89.30 level, still far from the resistance, around 93.40.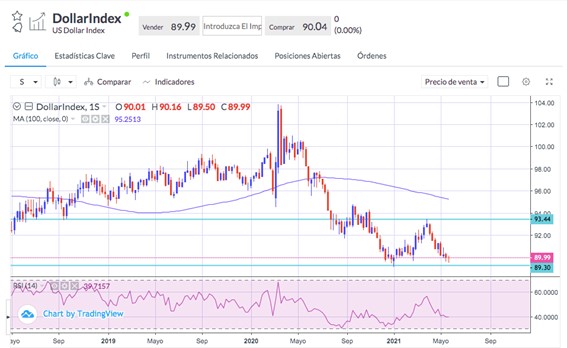 The 10-year American bond, Tnote, has reacted to the latest Fed comments, with the yield reaching 1.60%. The evolution of these instruments could be important when assessing the behavior of other assets on the market, including the stock market indices and the U.S. Dollar price. Potential increases in the yield of U.S. Treasury bonds would support the U.S. currency, at least in the short term, and put a halt to the positive trend in the stock markets.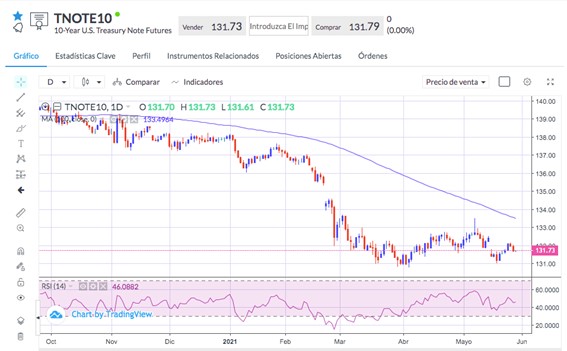 Sources: Bloomberg, reuters.com.
The information presented herein is prepared by Miguel A. Rodriguez and does not intend to constitute Investment Advice. The information herein is provided as a general marketing communication for information purposes only.

Users/readers should not rely solely on the information presented herewith and should do their own research/analysis by also reading the actual underlying research.

Key Way Markets Ltd does not influence nor has any input in formulating the information contained herein. The content herewith is generic and does not take into consideration individual personal circumstances, investment experience or current financial situation.

Therefore, Key Way Markets Ltd shall not accept any responsibility for any losses of traders due to the use and the content of the information presented herein. Past performance and forecasts are not reliable indicators of future results.