Despite rising inflation forced Fed to bring forward the time frame on when it will next raise interest rates, the stock market focused on improved earnings expectations, strong GDP growth.
Indices lost upward momentum but remain at high levels. Yesterday, the Nasdaq technology index rose by 2%, with the leading stocks Amazon, Alphabet, and Facebook reaching historical highs.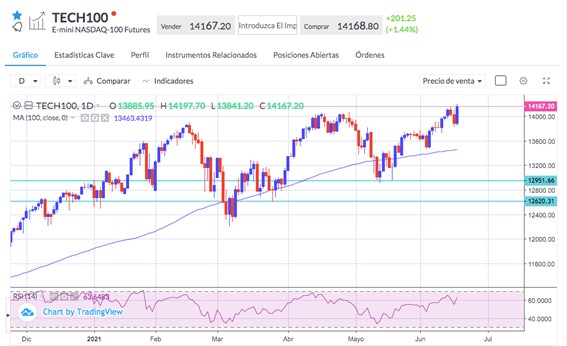 U.S. Treasury Bonds did not seem to weigh in favourably the more hawkish forward guidance, as the 10-year benchmark fell to 1.51% yet again.
The performance of the North American fixed income market seems closer to Powell's discourse, who tried to downplay this more hawkish bias by trying to be less clear about the possibility of rate hikes and the beginning of the tapering process. However, he recognized that the economy and especially employment would rise strongly in the coming months.
This behavior contrasts with what the foreign exchange market is experiencing - a more robust U.S. Dollar compared to most of its competition, with the only exception being the Japanese yen.
Still, the U.S. Dollar's price against the euro strengthened significantly due to the general weakness of the euro after the European Central Bank expressed its intention to continue with its asset purchase program. Although it sounds like some dissenting voice expressing concerns about inflation, the ECB officials said they will continue with an ultra-expansionary policy for as long as necessary until the European economic figures confirm the recovery and inflation figures.
The EUR/USD pair has plummeted since the Federal Reserve meeting, technically breaking down the 100-day SMA line. However, although the RSI indicators on the daily chart are at oversold levels, they are not giving signals of divergence. Therefore, the pair should not find any obstacles until the price concentration zone around 1.1750.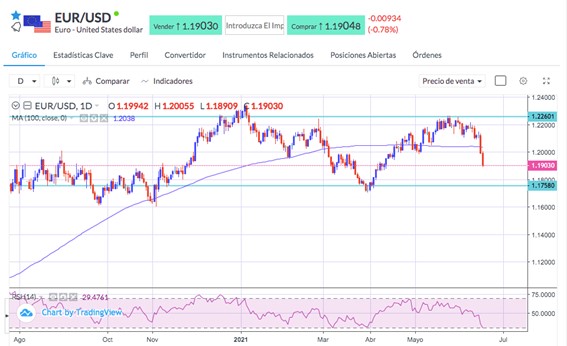 Sources: Bloomberg, reuters.com.
The information presented herein is prepared by Miguel A. Rodriguez and does not intend to constitute Investment Advice. The information herein is provided as a general marketing communication for information purposes only.

Users/readers should not rely solely on the information presented herewith and should do their own research/analysis by also reading the actual underlying research.

Key Way Markets Ltd does not influence nor has any input in formulating the information contained herein. The content herewith is generic and does not take into consideration individual personal circumstances, investment experience or current financial situation.

Therefore, Key Way Markets Ltd shall not accept any responsibility for any losses of traders due to the use and the content of the information presented herein. Past performance and forecasts are not reliable indicators of future results.