The North American Senate passed the $550 billion infrastructure investment bill, boosting the U.S. economy.
However, the bill has yet to be approved by the House of Representatives, but no setback is expected. Although this investment proved a great stimulus for the economy, the markets already seem to have discounted it, as they had expected an investment proposal much higher than the approved one.
In any case, the USA30 index experienced a slight upward momentum after the news came out, reaching a new maximum at 35.174.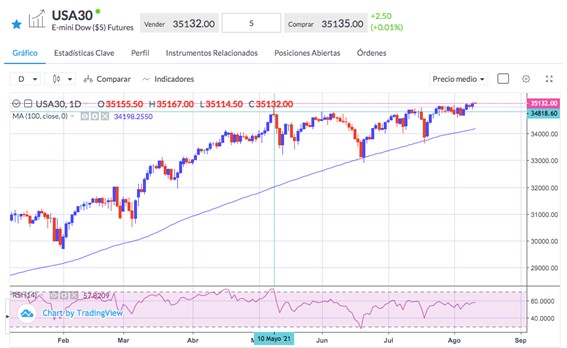 CPI report up next
Today, the market's attention will be on the U.S. CPI figures for July. Although the Federal Reserve focuses on employment as part of its monetary policy, we should also consider price stability equally important, precisely what CPI can reveal (or not).
A further rise in prices could put pressure on the Fed, forcing it to start reducing its stimulus policy and increase market expectations for an earlier-than-expected tapering announcement. The average market forecasts expect a decline in core inflation for July to 4.3%, in annual terms, from 4.5% in June, but some analysts predict further increases to 4.7%.
For the moment, after the latest employment figure and the approval of the bill on investment in infrastructure yesterday, long-term interest rates have experienced a noteworthy increase. The 10-year U.S. government bond reached ​​1.37% and could continue climbing if today's inflation figures do not carry on their upward trend.
Elsewhere in the Forex market
The U.S. Dollar strengthens against all its counterparts, driven by higher long-term interest rates and higher expectations of the start of tapering by the Fed.
EUR/USD fell sharply due to a stronger dollar, but also due to the weakness of the European economy after Germany's ZEW economic sentiment came out, showing an abrupt fall to 40.4 from 63.3 in the previous month.
Technically, the pair is about to break down the 1.1704 area, below which a weekly double top would be activated with a theoretical target of 1.1150.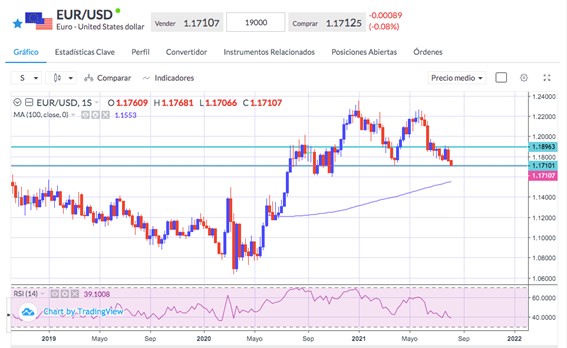 Sources: Bloomberg, reuters.com.
The information presented herein is prepared by Miguel A. Rodriguez and does not intend to constitute Investment Advice. The information herein is provided as a general marketing communication for information purposes only.

Users/readers should not rely solely on the information presented herewith and should do their own research/analysis by also reading the actual underlying research.

Key Way Markets Ltd does not influence nor has any input in formulating the information contained herein. The content herewith is generic and does not take into consideration individual personal circumstances, investment experience or current financial situation.

Therefore, Key Way Markets Ltd shall not accept any responsibility for any losses of traders due to the use and the content of the information presented herein. Past performance and forecasts are not reliable indicators of future results.