Markets plunged after tensions in Kabul escalated during the evacuation process, leading to the loss of lives.
US indices fell as soon as the word came out, and their European counterparts quickly followed. However, tensions were already present before the attack occurred, mainly due to Fed's meeting in Jackson Hole.
How the US Central Bank can change everything
Today afternoon, Jerome Powell will hold the first speech at Jackson Hole. Although the likelihood of him announcing the start of the tapering process is low, any hints about this topic could cause significant market movements such a massive Dollar buying and bond selling.
Three Fed voting members, Kaplan, Bullard, and George, have already spoken in favor of withdrawing the bond purchase program as soon as possible due to a favorable evolution of the North American economy, both in growth and in the labor market. They have also manifested their concerns about the growth in price values which could signal an inflationary process.
In this regard, the PCE price index (personal consumption expenditure – one of Fed's favorite barometers for measuring inflation) is scheduled for publishing later today. A better-than-expected figure could pressure the Federal Reserve to put an end to its ultra-expansionary monetary policy.
The 10-year American bond, Tnote, fluctuated around the lower part of its last day's price (its current support level), waiting for news from Fed, and pressured by the latest US economic data.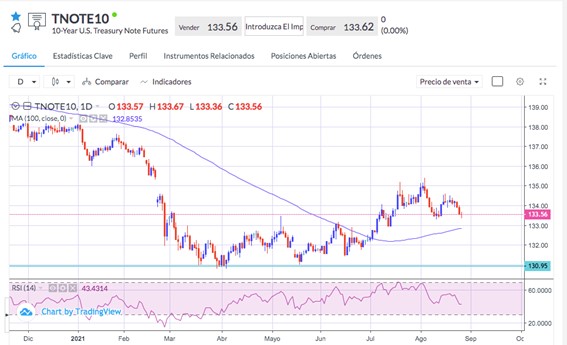 North American indices sink
The major US indices all lost around 0.50%. Of all of them, USA30 would theoretically be the least affected if Fed took a decision that would lead to a rebound in long-term interest rates, such as the beginning of tapering. Therefore, corrective movements cannot be ruled out.
Getting back to USA30, the index finds its closest support in the area, around 34,500, close to the 100-day SMA line. In any case, even taking these potential corrections into account, the uptrend remains intact and could only be jeopardized if the index falls below 33,700.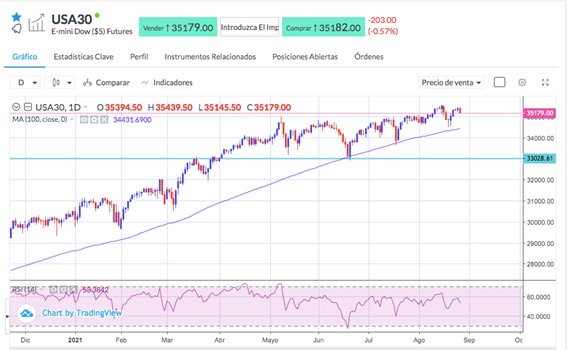 Sources: Bloomberg, reuters.com.
The information presented herein is prepared by Miguel A. Rodriguez and does not intend to constitute Investment Advice. The information herein is provided as a general marketing communication for information purposes only.

Users/readers should not rely solely on the information presented herewith and should do their own research/analysis by also reading the actual underlying research.

Key Way Markets Ltd does not influence nor has any input in formulating the information contained herein. The content herewith is generic and does not take into consideration individual personal circumstances, investment experience or current financial situation.

Therefore, Key Way Markets Ltd shall not accept any responsibility for any losses of traders due to the use and the content of the information presented herein. Past performance and forecasts are not reliable indicators of future results.