The retail sales figure (MoM) for February in the euro area took the markets by surprise with a growth of 3% compared to the 1.5% expected and the -5.2% decrease of the previous month.
This result seems to be a positive sign if we look at the European authorities' lockdown measures during this period.
After the retail sales numbers came out, the euro recovered all the territory previously lost, surpassing the 1.1900 area.
The markets in general, not only the currency, remain very stable without large movements that define trends. In this sense, it will be interesting to see the result of this afternoon's Core CPI for March in the U.S. An increase of 0.2% is expected, one-tenth above the data of the previous month but still, still very contained. Of course, any figure higher than expected could lead to an increase in inflation expectations and with this, the market could expect even more the first hike in interest rates.
The assets that continue to be pressured down, for this reason, are U.S. Treasury Bonds.
The 10-year benchmark, Tnote, the price dropped again, and it is now close to the previous low of 130.83, which would correspond to a yield of 1.77%, currently at 1.67%.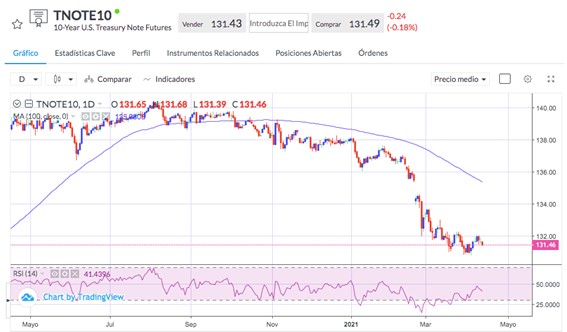 If the U.S. Treasury Bond Yields' upward movement continues, the Dollar will carry on its upward momentum, putting downward pressure on the pairs that trade against the Dollar.
An interesting pair in this regard from a trading point of view is the AUD/USD. Technically it has broken down a reversal pattern that, if confirmed, would have a theoretical target in the 0.7270 area.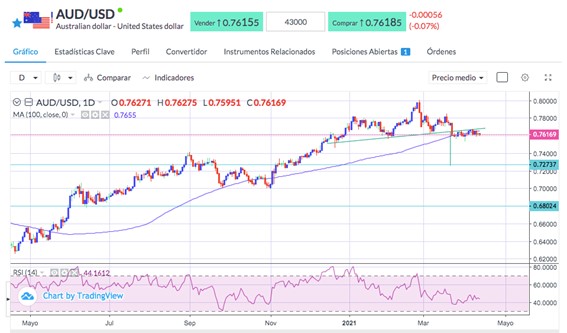 At the moment, it remains in a lateral movement below the neckline and would need to continue to decline for the U.S. dollar to strengthen. This could happen if long-term interest rates continue to rise, and we witness a further downward correction in the stock markets with which the Australian currency is highly correlated.
Sources: Bloomberg, Reuters.com.
The information presented herein is prepared by Miguel A. Rodriguez and does not intend to constitute Investment Advice. The information herein is provided as a general marketing communication for information purposes only.

Users/readers should not rely solely on the information presented herewith and should do their own research/analysis by also reading the actual underlying research.

Key Way Markets Ltd does not influence nor has any input in formulating the information contained herein. The content herewith is generic and does not take into consideration individual personal circumstances, investment experience or current financial situation.

Therefore, Key Way Markets Ltd shall not accept any responsibility for any losses of traders due to the use and the content of the information presented herein. Past performance and forecasts are not reliable indicators of future results.