The 10-year bond reached 1.54% due to overall sales in all references driven by the imminent start of the Fed-confirmed tapering program
This move substantially affected the stock markets, which tumbled after last week's upward correction.
Also contributing to this deep bearish movement was yesterday's figures, such as the US consumer confidence for September, which fell to 109.3 from the 114.5 forecasted, and the Richmond Fed manufacturing index, which fell to -3 versus the expected 13.
Weak figures for the US economy due to the Delta variant add to concerns about the slowdown in the Chinese economy. Moreover, the persistent blockages in the supply chain, the rise in energy prices, and the uncertainty about the future of Evergrande bring more reasons for concerns.
To this perfect storm must be added the lack of political agreement in the United States. There are discussions regarding the debt ceiling rise, and thus the administration to be able to continue its activity without incurring default.
Yesterday, the most affected index was TECH100, with a loss of 2.79% and closing slightly below the support zone around 14.820. Below this level, it works its way, from a technical analysis perspective to 14,516.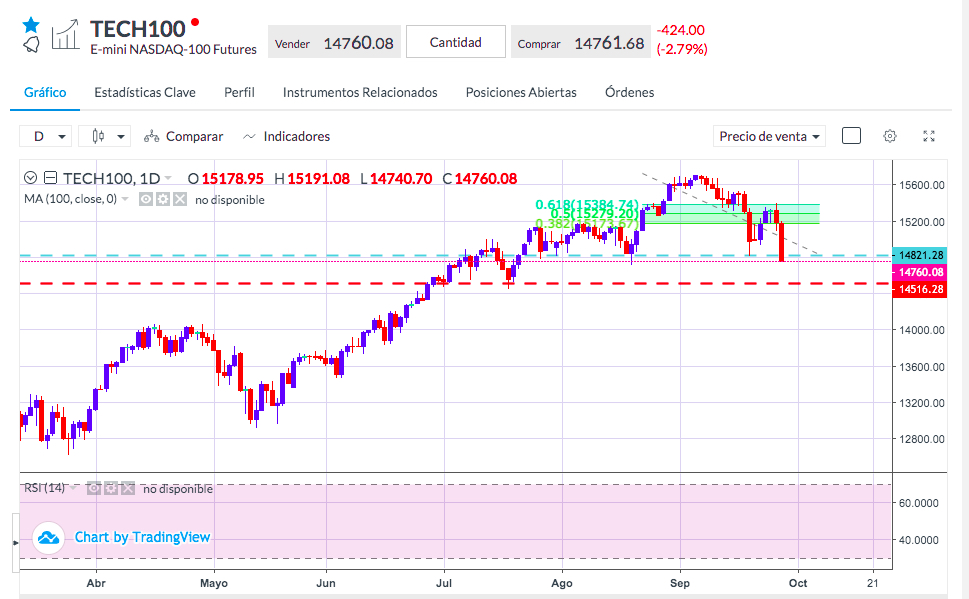 USA500 also fell sharply, losing almost 2% at the closing bell. In this case, the index failed to go below the 100-day SMA line currently acting as a support level. Below this indicator, it does not find any support until the 4229 area.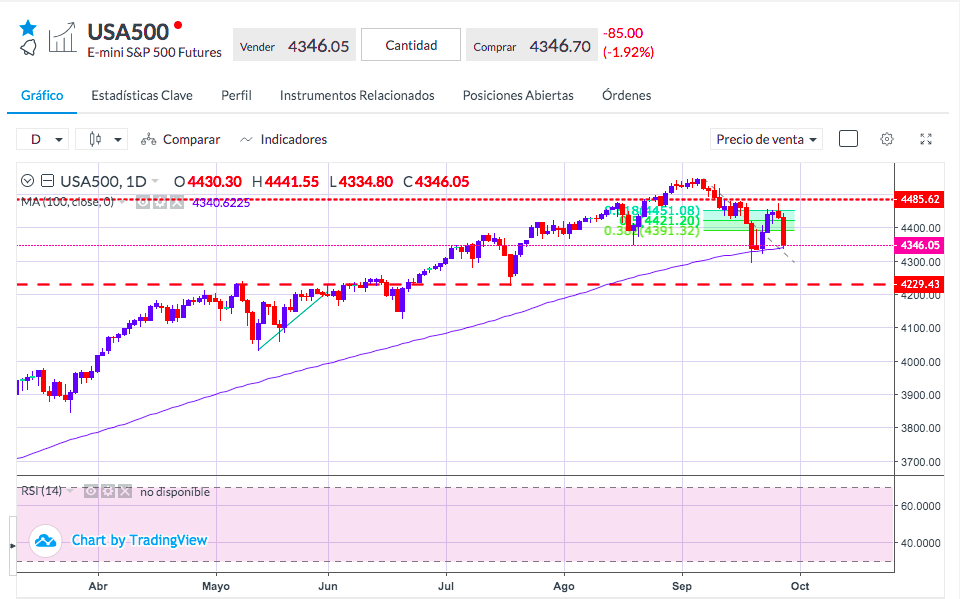 The US dollar also moved accordingly to the scenario of rallies in long-term interest rates with generalized rises mainly reflected in USD/JPY. The pair reached the July highs of 111.65, a reference level which its surpassing opens a bullish scenario of significant distance from a technical point of view.
Sources: Bloomberg.com, reuters.com
The information presented herein is prepared by Miguel A. Rodriguez and does not intend to constitute Investment Advice. The information herein is provided as a general marketing communication for information purposes only.

Users/readers should not rely solely on the information presented herewith and should do their own research/analysis by also reading the actual underlying research.

Key Way Markets Ltd does not influence nor has any input in formulating the information contained herein. The content herewith is generic and does not take into consideration individual personal circumstances, investment experience or current financial situation.

Therefore, Key Way Markets Ltd shall not accept any responsibility for any losses of traders due to the use and the content of the information presented herein. Past performance and forecasts are not reliable indicators of future results.