The preliminary GDP data for Q2 in the United States was released yesterday, with the figure coming in at -0.9% YoY
This is a figure below market estimates and, more importantly, marks another quarter with a drop in GDP, which, if confirmed, would mean that the US economy entered a technical recession.
After knowing this data, the forecasts on the interest rates evolution in the United States have lowered considerably. Moreover, the day before, Chairman Powell had already announced that the next steps of the Federal Reserve would depend on economic data. The first data published after his statements pointed to a sharp economic slowdown threatening a recession. Today other relevant data will be published, including personal consumption spending, an inflation metric which is the additional problem the Fed faces. If the inflation data is somewhat weaker, expectations about future interest rates may recede significantly.
Following the GDP data for Q2, the treasury bond yields experienced a considerable drop. The 10-year bond went down to 2.68%, the lowest level since April 2022. The market is beginning to bet on a less aggressive action by the Fed, probably even below previous expectations of 3.5%.
As a result, the US Dollar weakened after the figure, especially against the Yen, falling more than 200 pips during the session.
On the other hand, stock markets reacted higher. Paradoxically, a poor economic growth figure that should initially be taken as negative for stock market indices is interpreted positively by investors if it limits interest rate hikes by the Fed.
The hikes have been the main fundamental factor causing markets to continue to sell off throughout the year's first half. At the close of the session, the earnings of two of the big technology companies, Apple, and Amazon, were published. In the case of Amazon, earnings expectations were exceeded, and the stock rose more than 10% after the close.
The Nasdaq index traded above the 100-day moving average and is close to the 12,947-resistance level. From a technical point of view, it could exit the bear market if it breaks the resistance level.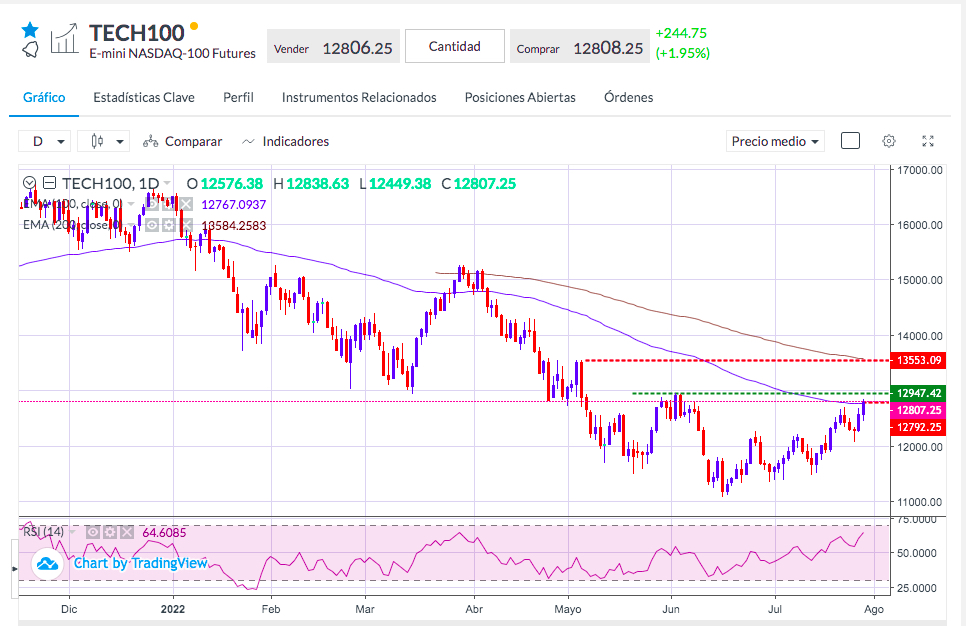 Sources: Bloomberg, Reuters
The information presented herein is prepared by Miguel A. Rodriguez and does not intend to constitute Investment Advice. The information herein is provided as a general marketing communication for information purposes only.

Users/readers should not rely solely on the information presented herewith and should do their own research/analysis by also reading the actual underlying research.

Key Way Markets Ltd does not influence nor has any input in formulating the information contained herein. The content herewith is generic and does not take into consideration individual personal circumstances, investment experience or current financial situation.

Therefore, Key Way Markets Ltd shall not accept any responsibility for any losses of traders due to the use and the content of the information presented herein. Past performance and forecasts are not reliable indicators of future results.