Market remains in risk-off mode due to fears that the Fed could go too far in raising rates.
The retail sales data for August showed a gain of 0.3%, exceeding forecasts, which is interpreted by the market as good consumer behavior despite inflation. Although in reality, the figure is not deflated, so the real data could be negative. Meanwhile, new jobless claims came in at 213,000 last week, also beating expectations.
A strong labor market, rising retail sales, and a higher-than-expected August core CPI report all point toward another 0.75 percentage point interest rate hike by the Fed, which would coincide with the June and July increases. Some are even talking about the possibility of the Fed raising rates by a full percentage point to control inflation.
The market risk sentiment is currently very pessimistic, and economic data are interpreted similarly. The data on new unemployment applications is typically irrelevant and does not always correlate with the employment data published in the first week of each month. To properly value retail sales, the inflation effect must be taken into account. Furthermore, the underlying retail sales figure was negative, excluding vehicle sales and giving a more structural view. It indicates that the rise is primarily due to a very specific sector, vehicle sales, which are volatile and seasonal.
Furthermore, the market has also ignored a very relevant piece of information, such as the Philadelphia Fed manufacturing index, which has plummeted to negative levels of -9.9.
In short, it can be said that the economic indicators in the United States point to a clear economic slowdown, which will be reflected in employment data sooner or later and will undoubtedly be taken into account by the Federal Reserve when deciding on potential new interest rate increases.
For the time being, the market remains in risk-off mode due to fears that the Fed could go too far in raising rates, leading to a deep and prolonged recession.
Yesterday, US indices fell again, Treasury bond yields remained high, and the dollar strengthened against almost all of its peers. The strong dollar and high-interest rates have driven a sharp sell-off in gold, and it has technically broken major support in the 1680 area, which if held, would open the way to deeper losses even below 1600.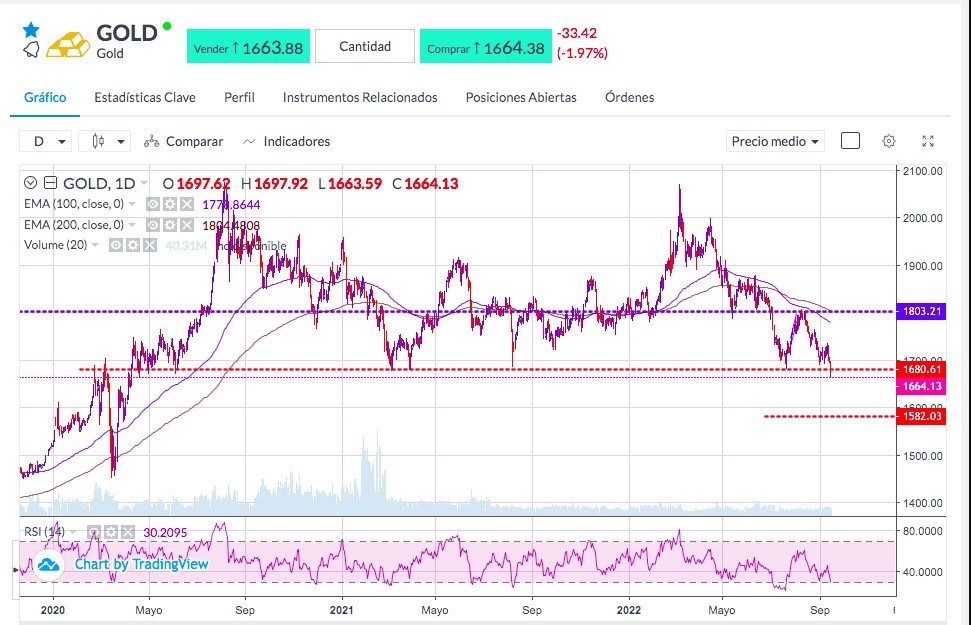 Sources: Bloomberg, Reuters
The information presented herein is prepared by Miguel A. Rodriguez and does not intend to constitute Investment Advice. The information herein is provided as a general marketing communication for information purposes only.

Users/readers should not rely solely on the information presented herewith and should do their own research/analysis by also reading the actual underlying research.

Key Way Markets Ltd does not influence nor has any input in formulating the information contained herein. The content herewith is generic and does not take into consideration individual personal circumstances, investment experience or current financial situation.

Therefore, Key Way Markets Ltd shall not accept any responsibility for any losses of traders due to the use and the content of the information presented herein. Past performance and forecasts are not reliable indicators of future results.