The US retail sales for October are showing a growth of 1.7%, higher-than-expected figures.
These figures proved that neither the price increases in recent months nor the uncertainty surrounding the economy's future due to the effects of the pandemic took a toll on US consumers. This data contributes at a very high degree to the North American gross domestic product.
The GDP figures expected to be released next week could confirm whether these good figures are significantly reflected in the economy's growth. These figures have boosted the North American indices, taking the S&P500 to previous highs encouraged mainly by retail stocks and those linked to the energy sector.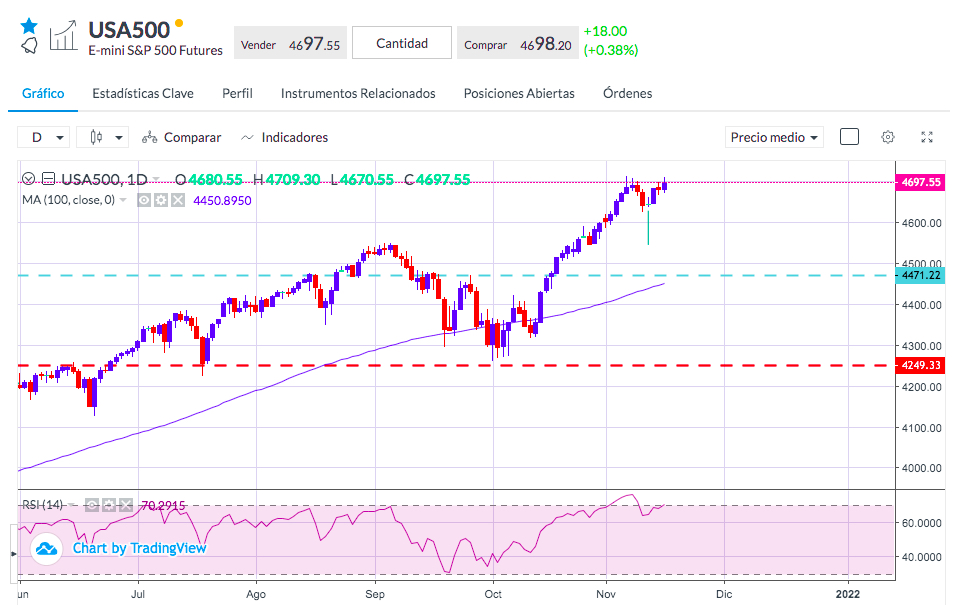 Market interest rates also experienced rallies, with the 10-year bond yield reaching the 1.64% level.
The Fed is still not showing signs of abandoning its determination to continue with the zero interest rates and gradual reduction of the bond purchase program. Apparently, even with data that indicates good performance of the economy, such as domestic demand, the labour market at levels close to full employment and the wage tensions and inflation data at levels not seen in decades isn't enough for the Fed.
In yesterday's statements, the president of the San Francisco Federal Reserve, Daly, said that now it's not the right time to rush decisions and that patience is required to see if inflation levels remain high in the next quarters.
This position of the Federal Reserve raises concerns amongst, economists and market analysts who fear that the Federal Reserve may be acting with lack of determination, what is called in the market "being behind the curve", and that this could have future terrible effects.
Elsewhere in the FX market, The US Dollar is anticipating higher interest rates, and strengthening day by day without pause.
Yesterday, USD/JPY broke the critical resistance level of 114.58 that had not been exceeded since January 2017. Technically, if it is confirmed with a close above this area, it ends with a downtrend that had been operating since July 2015, thus opening the way for more advances of the pair soon.
Sources: Bloomberg, Reuters
The information presented herein is prepared by Miguel A. Rodriguez and does not intend to constitute Investment Advice. The information herein is provided as a general marketing communication for information purposes only.

Users/readers should not rely solely on the information presented herewith and should do their own research/analysis by also reading the actual underlying research.

Key Way Markets Ltd does not influence nor has any input in formulating the information contained herein. The content herewith is generic and does not take into consideration individual personal circumstances, investment experience or current financial situation.

Therefore, Key Way Markets Ltd shall not accept any responsibility for any losses of traders due to the use and the content of the information presented herein. Past performance and forecasts are not reliable indicators of future results.