The markets continued to respond to Fed Chairman Powell's statements.
After its latest monetary policy meeting, the Fed's comments led investors to believe there could be at least five interest rate hikes this year. Moreover, the markets now anticipate a 0,50% rate hike in March. Additionally, news surrounding a faster and earlier reduction of the Fed's balance sheet also worried investors.
As a direct result, the US stock markets continued their sell-off, to which the uncertainty about the Ukraine-Russia conflict also contributed. On the other hand, the dollar strengthened, and gold lost some of its gains.
The stock markets
The most affected index was Nasdaq, which had the lowest closing price since last June, and was on track to experience the largest monthly drop in decades.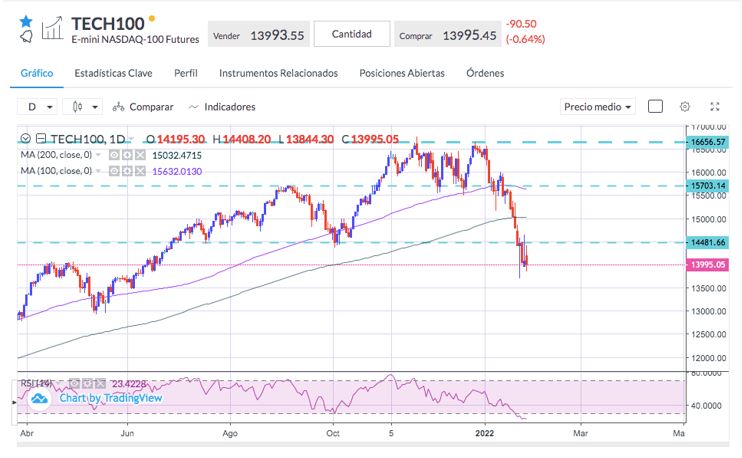 In addition to the tightening of monetary policy that especially affects technology stocks, the fall in the index was exacerbated by the collapse of some stocks such as Tesla. After the leading electric vehicles manufacturer warned that problems in the supply chain supply could last until 2022, shares fell 11% - on track for their worst one-day percentage drop since early November. Still, the company released a strong quarterly report on Wednesday but warned component shortages would limit production this year.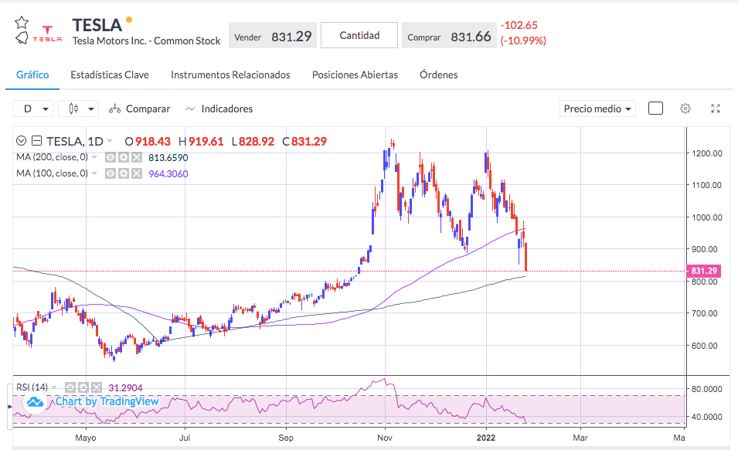 The FX market
In the forex market, the EUR/USD pair continued to fall, breaking support, including the important level of 1.1185, and reaching 1.1134.
Everything indicates that due to the difference in interest rates and its role as a refuge currency, the dollar would start another upward trend against most of its peers. In the case of the EUR/USD, it finds only minor support in the area around 1.1100 without any major obstacle from a technical point of view until the area between 1.1000 and 1.1015.
Sources: Bloomberg, Reuters.
The information presented herein is prepared by Miguel A. Rodriguez and does not intend to constitute Investment Advice. The information herein is provided as a general marketing communication for information purposes only.

Users/readers should not rely solely on the information presented herewith and should do their own research/analysis by also reading the actual underlying research.

Key Way Markets Ltd does not influence nor has any input in formulating the information contained herein. The content herewith is generic and does not take into consideration individual personal circumstances, investment experience or current financial situation.

Therefore, Key Way Markets Ltd shall not accept any responsibility for any losses of traders due to the use and the content of the information presented herein. Past performance and forecasts are not reliable indicators of future results.