Stocks gain despite surprise weak Chinese data
Neither the dismal economic figures from China nor the data on the NY Empire State manufacturing index that fell to levels not seen since the pandemic didn't stop the upward momentum of the US indices.
China surprised the market by lowering interest rates, unlike the rest of the world's central banks, trying to stimulate the economy, showing alarming signs of weakness.
China's year-on-year industrial production showed a growth of 3.8%, while retail sales fell to 2.7% year-on-year, and fixed asset investments in July only grew 5.7% from 6.1% in the previous month.
Later, the American figure for the NY Empire State manufacturing was released with a drop of -31.30 versus 5.50 expected. This huge deviation alarmed analysts and has once again encouraged the speeches of those who predict a recession in the United States.
But the American stock markets ignored these disturbing data and again experienced widespread increases. Technically, the three main Wall Street indices are already in bullish territory. It can be said that they have left behind the bear market that most investors expected to go on. Yesterday, the portfolios of the main American investment funds were reported, and a good number of them had reduced and even cut their bearish positions.
Despite the latest negative data, the expectation that the Fed will not raise interest rates as much as initially predicted, as well as the latest corporate earnings, are factors that have sparked optimism among investors.
Also playing a big role is that inflation expectations, the main threat to the market for some time, have been lowered substantially. The fall in the price of raw materials, especially oil, contributes to this.
Yesterday it was expected a nuclear agreement with Iran could be reached to eliminate the sanctions that prevent it from exporting oil, allowing it to access the international oil market. If an agreement is reached, it would mean an increase in the supply of around 1 million BPD that would push the price of crude oil down, possibly below $80 per barrel.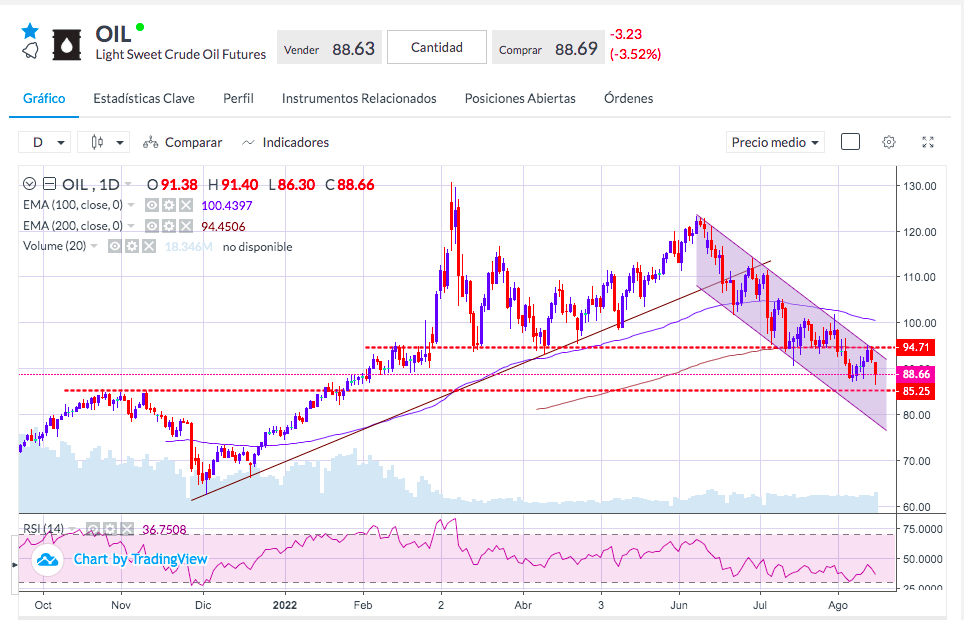 Sources: Bloomberg, Reuters
The information presented herein is prepared by Miguel A. Rodriguez and does not intend to constitute Investment Advice. The information herein is provided as a general marketing communication for information purposes only.

Users/readers should not rely solely on the information presented herewith and should do their own research/analysis by also reading the actual underlying research.

Key Way Markets Ltd does not influence nor has any input in formulating the information contained herein. The content herewith is generic and does not take into consideration individual personal circumstances, investment experience or current financial situation.

Therefore, Key Way Markets Ltd shall not accept any responsibility for any losses of traders due to the use and the content of the information presented herein. Past performance and forecasts are not reliable indicators of future results.